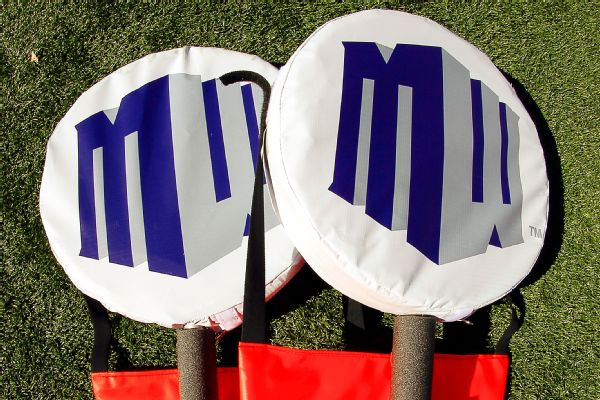 The Mountain West Conference made pitches late last month to what are now the Pac-12's final two members after realignment, Oregon State and Washington State.
Mountain West commissioner Gloria Nevarez made presentations to Washington State on Aug. 24 and to Oregon State on Monday, associate commissioner Javan Hedlund confirmed Saturday.
Stanford and California announced Friday that they are bolting for the Atlantic Coast Conference in 2024. That leaves the Beavers and the Cougars alone in the Pac-12.
Eight other teams from the onetime "Conference of Champions" previously announced plans to depart next year. USC, UCLA, Oregon and Washington are headed to the Big Ten, and Arizona, Arizona State, Colorado and Utah will play in the Big 12.
One possible option for Washington State and Oregon was shut down Friday when the American Athletic Conference released a statement that said "we have concluded that the best way to proceed for our outstanding student-athletes is to not look westward."
The Beavers and Cougars made it clear they are working together to find, or create, a solution. In addition to the Mountain West, the teams also could attempt to build a new Pac-12 with teams from that conference and/or others.
The latest departures came as Washington State and Oregon State prepare to open their football seasons. The Cougars were at Colorado State on Saturday, and the No. 18 Beavers visit San Jose State on Sunday. Both games could be a harbinger of what's to come: Colorado State and San Jose State are in the Mountain West.
Nevarez was attending the Rams' game against the Cougars.
Oregon State president Jayathi Murthy said Friday that a decision for the Beavers likely would come in weeks, not months. Her hope was that the Pac-12 brand can be retained in some way.
"We continue to look for options that work for us, where the needs of our students-athletes are taken care of, where our athletic and academic values align, and where we can play at the national level and be visible," Murthy said. "But jumping from a conference was never the first option; making the conference work is always where my heart and my mind lay. And I'm sorry that a top-20 football team ends up where we are because of the focus on media rights and media valuations."