The 71-year-old star of the "Golden Bachelor" TV spinoff premiering this fall says "it's never too late to fall in love again," and he wants to share the "sunset years of life" with a woman who is "high energy."
I might be able to help.
California is about to be hit by an aging population wave, and Steve Lopez is riding it. His column focuses on the blessings and burdens of advancing age — and how some folks are challenging the stigma associated with older adults.
Lately, women of a certain age have been revealing intimate details of their lives to me. I guess I shouldn't be surprised, since I've been chronicling the burdens and blessings of aging for the last eight months, and readers have stepped up to shatter stereotypes.
Cathy, a 71-year-old Inland Empire resident, certainly sounds high energy, although the Golden Bachelor will have to wait in line, because she's involved with an 81-year-old bon vivant.
"We see each other three to four times a week including lunches, dinners, shopping and regular, satisfying, extraordinary, wild monkey sex," Cathy wrote in an email.
OK now.
Cathy explained by phone that she and her boyfriend are married to other people and intend to remain so, but one spouse had a stroke and the other is institutionalized. For her and her paramour, being with each other is a welcome comfort, she said. As for the physical part, they each know what they want "and aren't afraid to ask for it."
"Age can indeed be a benefit," said Cathy.
A Santa Monica resident named Mackay, 79, would agree.
"I have never been more in love," she declared in an email, telling me she met an 81-year-old man on a dating app after a decade of caring for, and eventually losing her husband, to Alzheimer's.
"I have never had better sex," Mackay went on. "We both use canes for balance. And when we go out we often get comments from young people about how romantic and 'cute' we are together. We smile at each other and say to ourselves, 'if they only knew what we do in bed.'"
Ordinarily a journalist wants as many details as possible, but there are exceptions.
As a public service announcement, I'd like to point out that being frisky can be risky, and I don't know if Medicare covers treatment for everything that can go wrong. So be careful, as both the AARP and Good Housekeeping have warned. Alarming spikes in sexually transmitted diseases have been reported among older adults in recent years, thanks in part to magic pills for men, dating apps, and changing norms.
"Gone are the days when people got married and stayed married," said Paul Nash, a USC gerontology professor who studies sexual behavior among older adults. Some of them naively think there's no risk of STDs, he said, and neither they nor their doctors talk about it.
I headed out to Palm Springs for a bit of my own research and stopped into the Mizell senior center, where Annette Spina, 84, made a trenchant observation.
"I've noticed a lot of single elderly people…playing pickleball and hooking up," Spina said. "A lot of the relationships have turned into really good marriages."
The Golden Bachelor, by the way, a widower, says he wants to meet someone who plays pickleball. If he lived in Palm Springs, perhaps he wouldn't need a TV show to find a date.
Spina runs the senior center's Mah Jongg class, which was attended by several gay men who gave me a quick primer on current romantic trends in the local gay community. They said throuples—a relationship involving three people— are a thing. And that open marriages are not at all uncommon.
David Salyer, 67, told me he's in a monogamous relationship, but said he and his husband are not the norm in the desert.
"If you're a man," Salyer said, "you're most likely going out to bars and going out on dates and hooking up with guys on Grindr."
I guess love has always been complicated, which may be why not everyone at the senior center is looking for romance.
"I don't want to find a guy and have to take care of him in a couple of years," said Michele Dunphy, a widow.
I mentioned that I was heading to The Nest, an Indian Wells restaurant and nightclub where desert love birds have flocked for decades. This brought a nervous chuckle from Dunphy's friend Angela.
"I flew out of there," said Angela, who told me she once danced with a man who was entirely too happy to see her, and she has not returned.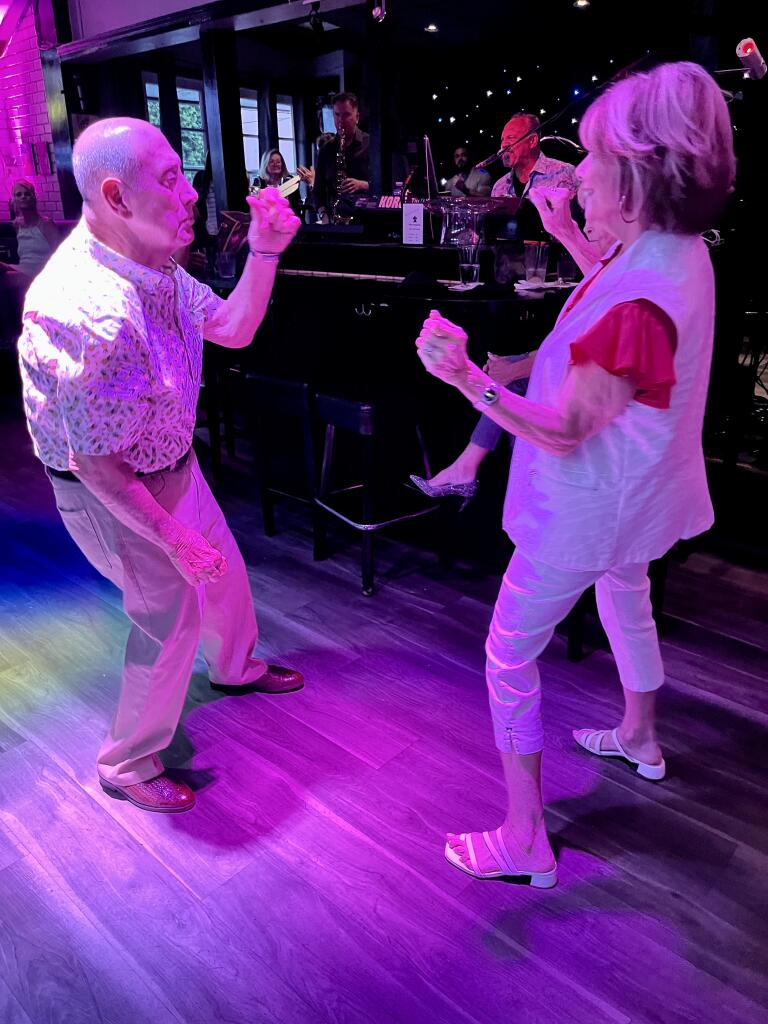 It was an off-season Tuesday night, but I found a lively scene at The Nest, where owner Dodi Henry said numerous couples have gotten married after meeting there. She said she runs a classy and comfortable meeting place for people of all ages, not a pickup bar. There's live music and dancing, and though she and her husband Kevin have split, his band was performing Tuesday.
John Russo told me he was divorced and spent years dropping by The Nest and other places looking for a relationship. Five years ago, he met a widow named Wendy on a dating app and they decided to see a movie for their first date.
"When I walked into that theater and saw her, I knew she was the one," said Russo, who sat with his wife of five years at the piano bar, waiting for the music to begin and for their friend Roz Walanka to join them.
I can't say whether anyone on the dance floor was on the prowl for wild monkey sex. But if I had to bet, I'd say most were happy just to get out of the house and have a nice time with friends, or strangers, on a hot summer night. Loneliness among older adults has been called an epidemic, and these people are doing what they can to escape it.
An 86-year-old man named Bill danced every dance, as did a woman in a cowboy hat who told me she's been there every night for 20 years. Brenda Olivares, who's married, danced with her gal pals, including Helen Maricza, who said she wouldn't mind meeting someone.
When Walanka arrived to hang out with her pals, the Russos, she told me she's been single for many years and would like to find "a companion for my titanium years." But she doesn't want to be a nurse or a purse, a phrase I heard more than once in the desert.
Walanka is 76, but "I want somebody younger because I have a lot of life in me and I want to go and do things and have fun with whatever time I have left…If you can make me laugh and you can dance halfway, you're in."
She said that at the urging of friends, she applied to be a contestant on "Golden Bachelor," but hasn't heard back. Her expectations are low.
"They're not going to put a 76-year-old woman with a 71-year-old man," Walanka said.
You never know. She looks younger than the Golden Bachelor, there's plenty of pickleball in the desert, and for young or old, love works in mysterious ways.
steve.lopez@latimes.com