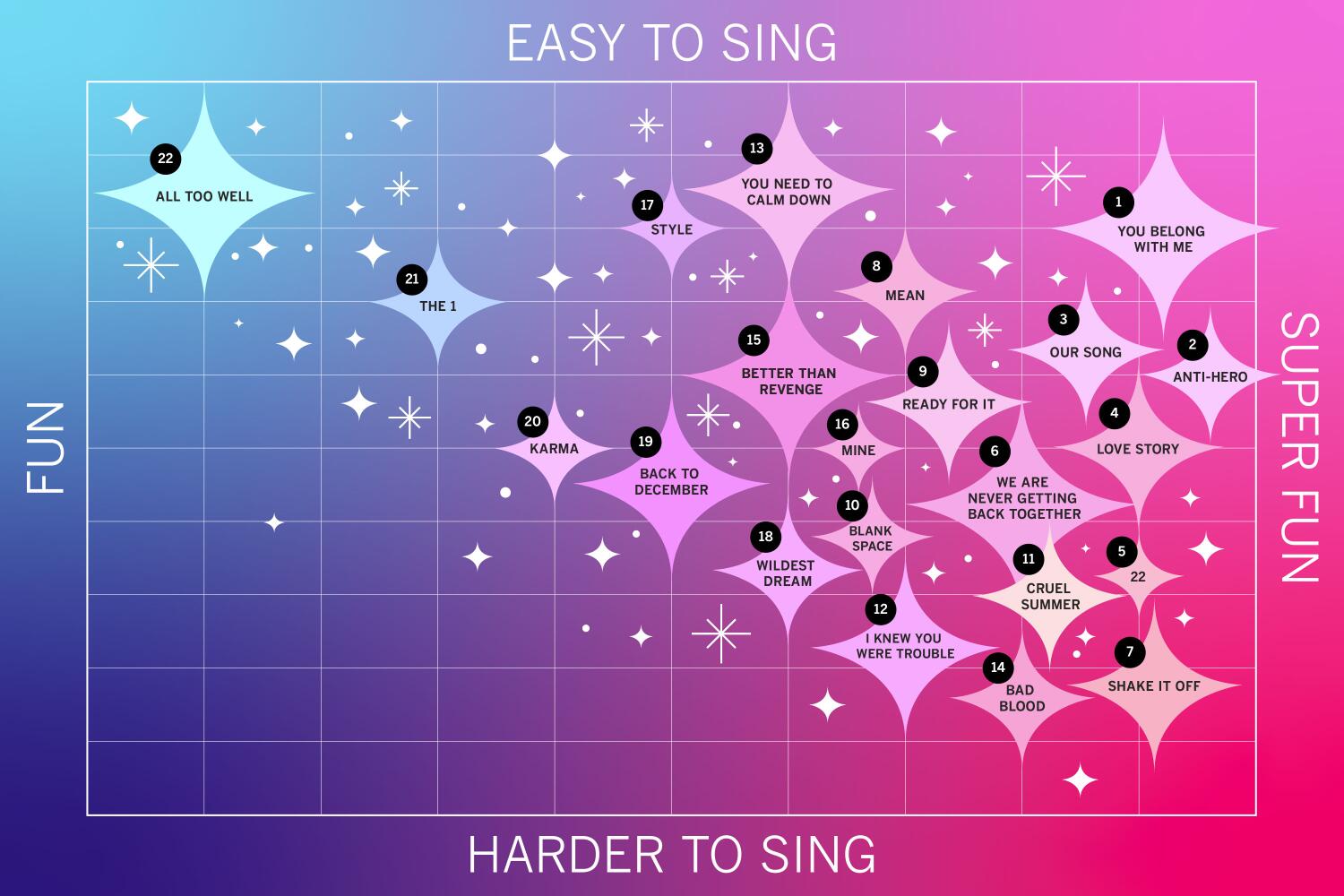 My favorite Taylor Swift song to sing in karaoke is "Blank Space." But this is not about me.
This is about the ultimate Taylor Swift karaoke song power rankings. The most definitive, conclusive and indisputable Taylor Swift karaoke song power rankings of all time — or at least of the "Midnights" era, until someone else makes another ultimate Taylor Swift karaoke power rankings that challenges our power rankings.
Why are Taylor Swift karaoke power rankings essential for both Swifties and karaoke aficionados? Any recreational karaoke singer, even if they aren't diehard fans, respects the Taylor Swift repertoire.
Most of her hits — and many of her deeper cuts — are Taylor-made for karaoke. They're lyrics-driven. They tell an evocative story. They allow the karaoke singer to play all different types of characters in a passionate, wistful or star-crossed romance. They're generally in an accessible vocal range. (For mezzo-soprano-adjacent singers, at least. We have our fun with the tenors, baritones and basses, but they are not the main characters in our stories.)
And while her songs can provide an exhilarating challenge with octave drops, melismatic melodies and word density, they are forgiving as long as you commit to the earnestness or the screaming.
But what Taylor songs are the best of the best for karaoke?
First, there's a difference between a good song and a good karaoke song. Karaoke is about community — whether it's a bar full of intoxicated strangers or a living room full of your parents' intoxicated friends. You have to consider your audience and the song's nostalgia factor. The best karaoke songs are recognizable to a diverse crowd.
Because of this, the top 22 Taylor Swift karaoke songs were chosen by considering which songs were popular on karaoke apps (such as Karafun and Singa), streaming apps and radio stations (Billboard, Spotify and Pandora) and fans' "Best Taylor Swift karaoke songs" lists, both published online and told to us anecdotally.
Once the top songs were chosen, I turned to Pandora's Music Genome Project music analysts Hannah Glass and Steve Hogan, who previously helped The Times create the ultimate karaoke song generator by sorting our selections by mood, time period and vocal range.
What we've learned from previous L.A. Times karaoke research is that there are two main intentions behind a karaoke song choice. Some songs are meant for showing off; others are meant for getting the crowd to sing along.
I believe a classic Taylor Swift karaoke song is meant for singing along. So one axis of these power rankings measures how easy the song is to sing, based on Pandora's metrics on vocal technical demands.
Next, karaoke is ultimately about having a good time. So the other axis measures how fun the song is to sing. For this, Glass and I started with Pandora data on whether the song has an especially stellar sing-along chorus, but also took into consideration factors such as rhythm, drama, heart, one's seating location while watching a high school football game — and, because this is an official L.A. Times power ranking, the very scientific opinions of staffers across our newsroom.
(Important to note that these rankings go from fun to super fun. All of them are fun, Glass explained, but the lowest-ranked tracks are simmering solo songs, while the 10s are the crowd-pleasers and show-stoppers.)
Sing whatever you want in karaoke. But here are the 22 inarguably best Taylor Swift karaoke songs, ranked.
22. "All Too Well"
The scarf at his sister's house. That time he almost ran the red light. This song, which tells a detailed story of a past love, is "full of words, but not much vocal technique is needed," Glass said. Swifties have the option of singing either the original version or the extended 10-minute one, "if you can karaoke that long," she said. And even if it's not as "super fun" to sing along to as others on this list — karaoke usually works better when there's a repeated chorus — this one is all about getting lost in your complex memories.
Difficulty: 1
Super fun scale: 1
Best karaoke lines: "And you call me up again just to break me like a promise / So casually cruel in the name of being honest"
21. "The 1"
The opening track of "Folklore" is one of Swift's easier songs to sing because of its simple, gentle melody and lower vocal range, Glass said. The pop chorus is catchy and packs an emotional punch. The lyrics are wistful with a tinge of regret, but they're also full of gratitude. It's only lower-rated on the "super fun" scale, Glass said, because "no one's allowed to sing along."
Difficulty: 3
Super fun scale: 3
Best karaoke lines: "But we were something, don't you think so?" and "You know the greatest loves of all time are over now"
20. "Karma"
The song that ends Swift's "Eras" tour setlist has syncopated lyrical rhythms but mostly a two-note melody, so it's relatively easy to sing if you can jump to the higher octave in the chorus, Glass said. It's really wordy, though, which makes it super fun for those who have practiced but harder to sing along for those who haven't.
Difficulty: 5
Super fun scale: 4
Best karaoke lines: "You're terrified to look down / 'Cause if you dare / You'll see the glare / Of everyone you burned just to get there" and "Sweet like honey / Karma is a cat / Purring in my lap 'cause it loves me"
19. "Back to December"
In this one, Swift sings about realizing what she lost when she let a past love get away. She's asking for forgiveness after he gave her roses and she "left them there to die." Vocally, "it's an easy chest range for a soprano or alto, but plenty of notes to hit," Glass said. And it's fun because pouring your heart out in karaoke is fun.
Difficulty: 5
Super fun score: 5
Best karaoke lines: "So this is me swallowing my pride / Standing in front of you saying I'm sorry for that night"
18. "Wildest Dreams"
This track provides the fantasy of the alluring bad boy. She "can see the end as it begins," but heaven can't help her now 'cause she's already in his car, getting out of this town. The song has easy rhythms, said Glass, but it's more challenging to sing because of the wider vocal range and the way the melody line leaps by fifths and octaves.
Difficulty: 6
Super fun score: 6
Best karaoke lines: "He's so tall and handsome as hell / He's so bad but he does it so well" and "Say you'll remember me / Standing in a nice dress / Staring at the sunset, babe"
17. "Style"
In another story about an unhealthy but irresistable relationship, the lover in this catchy song disappears and doesn't even bother to check in until he shows up unexpectedly at her door at midnight. She should tell him to leave, because she knows exactly where it leads. But she doesn't, of course. Terrible, but so good for karaoke. And it's a relatively simple song to sing because of the lower vocal range, Glass said.
Difficulty: 2
Super fun scale: 5
Best lines: "You got that James Dean daydream look in your eye / And I got that red lip classic thing that you like"
16. "Mine"
This is wide-eyed, sweet and innocent Swift. The lyrics tell a story of young romance — they were sitting by the water when he put his arm around her for the first time — that crescendos into a fight during the song's bridge. But just like any picture-perfect rom-com, there's no reason to doubt the two leads will end up together. Vocally, it's not too high, with an easy three-note melody throughout, so it's great for sing-alongs, Glass said.
Difficulty: 5
Super fun score: 6
Best karaoke lines: "You made a rebel of a careless man's careful daughter" and, during the reveal, "I fell in love with a careless man's careful daughter / She is the best thing that's ever been mine"
15. "Better Than Revenge"
What's better than revenge? A song about revenge. Declaring a vendetta against an actress Swift believes sabotaged her relationship, this is a fast, energetic song that's not too high, other than a couple of falsetto jumps, Glass said. "It's not as iconic as the heavy hitters," she added, "but it has all the karaoke charisma of [Blink 182's] 'All the Small Things.'"
Difficulty: 4
Super fun score: 7
Best karaoke lines: "He was a moth to the flame, she was holding the matches, whoa"
14. "Bad Blood"
This is the only song on the list where you might need a partner, unless you rap Kendrick Lamar's part yourself. Glass calls "Bad Blood" Swift's "You Oughta Know," referencing Alanis Morissette's karaoke classic, because it's "one of the ragiest songs on the list." It's also unexpectedly challenging to sing. Even though the power chorus repeats and it's in Swift's normal vocal range, "it's belted throughout and intense," Glass said. But when someone you used to have mad love for makes a really deep cut in you, you should let out some of that anger — you'll feel better.
Difficulty: 8
Super fun score: 8
Best karaoke lines: "Band-Aids don't fix bullet holes / You say sorry just for show"
13. "You Need to Calm Down"
This song has one of the best intros. It wastes no time getting directly to the point, which is — paraphrased — "Who are you to criticize me? Get a life." Vocally, it's in a lower range and mostly conversational, which makes it very straightforward and fun to sing along to, Glass said. "The swooping 'ohs' in the chorus are extra credit," she added. "And you need four friends to get this Beach Boy stacking chorus right."
Difficulty: 2
Super fun scale: 6
Best karaoke lines: "You are somebody that I don't know / But you're taking shots at me like it's Patrón / And I'm just like 'Damn, it's 7:00 a.m.'" and "Why are you mad? / When you could be GLAAD?"
Projected growth for newer Taylor Swift karaoke songs
The language learning platform Preply analyzed the search volume for every song on Taylor Swift's Eras tour setlist, and here are the top 10 songs Los Angeles Swifties have been searching for in anticipation of her shows.
1. "Cruel Summer"
2. "Lover"
3. "Cardigan"
4. "Enchanted"
5. "August"
6. "Karma"
7. "Willow"
8. "22"
9. "Seven"
10. "Anti-Hero"
12. "I Knew You Were Trouble"
If you know, you know. This is a cathartic karaoke song that provides a challenge because of its melismatic melodies — when multiple notes are sung within one word, a trademark of Swift's songwriting — and its speedy verses. "Remember to breathe, y'all," Glass said. The note jumps also cross between chest voice and head voice for many singers, which is a challenge for the inexperienced, she added.
Difficulty: 7
Super fun score: 7
Best lines: "Now I'm lyin' on the cold hard ground / Oh, oh / Trouble, trouble, trouble" and "Pretends he doesn't know / That he's the reason why / You're drowning / You're drowning / You're drowning"
11. "Cruel Summer"
"Cruel Summer" is the ultimate summer jam, still popular years after its release. But not everyone can pull it off in karaoke. "The higher notes in the chorus coupled with the melismatic melody makes this one deceptively hard," Glass said. You gotta be able to belt the high notes with a certain amount of vocal control to do the "Cru-u-u-e-el" part of the summer justice.
Difficulty: 7
Super fun score: 8
Best karaoke lines: "Devils roll the dice, angels roll their eyes" and "No rules in breakable heaven"
10. "Blank Space"
This karaoke hit allows the singer to play a naughtier, less commonly-utilized Taylor character: the heartbreaker. It's sung in a higher range, but it has a simple melody and rhythm, so it's all about getting the lyrics down. And with empowering lyrics like "You look like my next mistake" and "I can read you like a magazine," practice makes a perfectly rollicking good time. The bridge is also the best: "Boys only want love if it's torture / Don't say I didn't, say I didn't warn ya."
Difficulty: 6
Super fun score: 7
Best lines: "I can make the bad guys good for a weekend" and "Cause darling, I'm a nightmare dressed like a daydream"
9. "…Ready For It?"
This is a killer karaoke song, because the verses are simple but aggressive with a persistent 16-note rhythm. It's a story about a heated affair with a younger man, accompanied by a virile electronic beat. When there's a dream-like break from the instrumental pounding, there are big melodic jumps, "but enough time to recover from them," Glass said. "The high note in the last section is extra credit," she added.
Difficulty: 5
Super fun scale: 7
Best karaoke lines: "And he can be my jailer, Burton to this Taylor / Every lover known in comparison is a failure"
8. "Mean"
This not-too-high classic tune with an easy country chorus gives a glimpse of innocent teenage Taylor, budding into deliciously passive-aggressive young-adult Taylor. The words that people are using to criticize her are like knives, but she hasn't learned to knife fight yet. Her whole life is ahead of her — she's gonna be a star — but all he's ever gonna be is mean.
Difficulty: 2
Super fun scale: 7
Best karaoke lines: "And a liar, and pathetic and alone in life / And mean, and mean, and mean and mean"
7. "Shake It Off"
This empowering dance hit is the ultimate sing-along about being bulletproof against the "liars and the dirty, dirty cheats of the world." And your shield is "this sick beat." But the song is harder than it seems. "It's in the higher range and the speedy chorus is near impossible," Glass said. But the thrill of attempt is worth it. (Bonus points if you can make eye contact with "the fella over there with hella good hair" during the bridge and make him blush.)
Difficulty: 8
Super fun scale: 9
Best lines: "Players gonna play, play, play, play, play / And the haters gonna hate, hate, hate, hate, hate / Baby, I'm just gonna shake, shake, shake, shake, shake"
6. "We Are Never Ever Getting Back Together"
Taylor Swift karaoke singers generally aren't intimidated by lyrical density, Glass said, and "apart from the chorus going into the stratosphere, the biggest challenge in this one is getting all the words out." Oo-oo-oo-oo-ooh, the mixed messages in this one are enough to drive anyone to scream-sing, "We are never getting back together. Like, ever." But in the end, what's better than an angry breakup song at karaoke? "A happy break-up song!" Glass said.
Difficulty: 6
Super fun score: 8
Best lines: "Ugh, so he calls me up, and he's like, 'I still love you' / And I'm like, I just, I mean this is exhausting, you know? / Like, we are never getting back together"
5. "22"
This sweet, nostalgic party hit is a karaoke classic, because no matter how old we are, who doesn't want to dress up like hipsters and make fun of our exes? Or ditch the cool kids when it gets too crowded? Singing the song provides a challenge, though. "This chorus is in the belting range, and the highest note of the song is full belt," Glass said. But in the spirit of youth, it doesn't matter if you don't get it perfect. "I don't know about you, but I want to sing about feeling 22," Glass said.
Difficulty: 7
Super fun score: 9
Best karaoke lines: "We're happy, free, confused and lonely in the best way / It's miserable and magical, oh yeah" and "Everything will be alright if / We just keep dancing like we're 22"
4. "Love Story"
It doesn't matter whether you are a teenage girl or not — teenage girl bops are always great go-to choices at karaoke. Most pop music listeners have heard of this massive Swift hit, so people will definitely sing along. And it's an easy pop melody with some embellishments, Glass said. Just three notes over and over.
Difficulty: 5
Super fun score: 9
Best lines: "Romeo, take me somewhere we can be alone / I'll be waiting, all there's left to do is run / You'll be the prince and I'll be the princess / It's a love story, baby, just say, 'Yes'"
3. "Our Song"
A girl tells her boyfriend that they don't have a song, and he says: Baby, everything is our song. This pop country anthem paints a picture of the cutest first love — sneaking around talking on the phone, wanting to kiss but being too nervous. Vocally, it's relatively simple because of the relaxed range and melody, with slightly higher notes in the chorus, Glass said. And it's the ultimate sing-along. Because it's our song. Everybody, now!
Difficulty: 4
Super fun score: 9
Best karaoke lines: "Our song is the slamming screen door / Sneakin' out late, tapping on your window / When we're on the phone, and you talk real slow"
2. "Anti-Hero"
Along with being incredibly catchy, this karaoke jam is a roller coaster ride for singers who love rhymes and wordplay. This is an older and wiser version of Swift, accepting the complex parts of herself and showing appreciation for the true diehards in her life who root for the anti-hero, even when it's hard. Vocally, "there are big jumps in the verse, but those high notes are falsetto afterthoughts," Glass said. "It's viral, simple and loud. Everybody in the spot is singing along to this, guaranteed."
Difficulty: 6
Super fun score: 10
Best karaoke lines: "I should not be left to my own devices / They come with prices and vices / I end up in crisis / (Tale as old as time)"; "I wake up screaming from dreaming / One day, I'll watch as you're leaving / 'Cause you got tired of my scheming / (For the last time)"; and "It's me, hi / I'm the problem, it's me"
1. "You Belong With Me"
Will the boy next-door with the girlfriend who doesn't appreciate him ever understand that what he's been looking for (you) has been here the whole time? This is the premise of both every cheesy rom-com and every soul-crushing heartbreak. Everyone will sing along — even if the exorbitant amount of times they heard it on the radio in the late aughts made them "laugh when you know you're about to cry."
The reason it works so well in karaoke is that the song is straightforward with an easy build and intuitive melodic flow, Glass said. "In this moment, we are all the girl on the bleachers," she added. "It's a simple, belted, timeless message — and a classic Swift karaoke song."
Difficulty: 3
Super fun scale: 10
Best karaoke lines: "But she wears short skirts / I wear T-shirts / She's cheer captain, and I'm on the bleachers / Dreaming about the day when you wake up and find / That what you're looking for has been here the whole time"