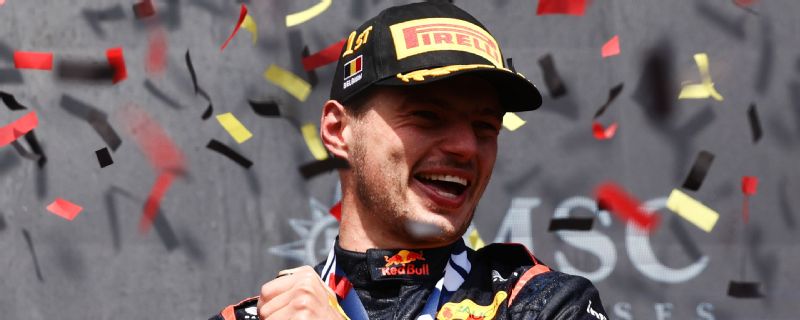 Max Verstappen's third championship has been a matter of when, not if, for several months now, but he has to wait at least one race more until he wraps it up.
The Dutchman's win at the Italian Grand Prix was a record 10th in a row and it would be a brave bet against him extending that to 11 in Singapore.
Singapore's Sep. 17 race is the first part of an Asian double header, with the Japanese Grand Prix at Suzuka a week later on Sep. 24.
Heading to Singapore, there are still 232 points left in play this season, with eight races (each having a maximum of 25 points for a win and a bonus point for fastest lap) and three sprint races (where the winner claims eight points) to come in Qatar, Austin's U.S. GP and Brazil.
Verstappen currently leads Red Bull teammate Sergio Perez by 146 points.
The simplest way to look at it is how many points are remaining after the remaining three races.
Given Verstappen's tally of 12 wins this year, there's no way Perez could win a tiebreaker in the unlikely event they finished level on points, even if he won the remaining eight events.
To win the title, Verstappen needs a lead of:
Singapore (Sep. 17) – 206
Japan (Sep. 24) – 180
Qatar (Oct. 8) – 146
F1 points: 1st (25), 2nd (18), 3rd (15), 4th (12), 5th (10), 6th (8), 7th (6), 8th (4), 9th (2), 10th (1), plus one bonus point for anyone in the top ten who scores the fastest lap of the race.
Verstappen has no chance of winning the title at the Singapore Grand Prix on Sunday. The maximum lead he could leave with is 172 points, assuming he claims the full 26 and Perez does not score at all.
Perez can ensure Verstappen needs to wait until Qatar if he finishes fifth or higher at the next two races, regardless of where the fastest lap bonus point goes.
Qatar looks like the most likely destination for Verstappen's third championship.
Perez needs a DNF at either of the next two races for Japan to be a likely title coronation, although Red Bull's driver have finished every race this year.
As a fun footnote, mathematically speaking, Fernando Alonso and Lewis Hamilton are still in contention to win the title. Both are as close to impossible as you can get. It would require either going on a Verstappen-esque winning run, while the Dutchman would need to score fewer than 38 or 32 points respectively over the final eight races.