Alex Murdaugh appeared in court Thursday on a financial crimes case for the first time since he was sentenced to life in prison for the murder of his wife and son.
The 55-year-old disbarred attorney wore an orange prison-issue jumpsuit in the  Beaufort, South Carolina, courtroom on an indictment stemming from the alleged theft of millions in insurance payments intended for the family of his late housekeeper Gloria Satterfield.
His lawyer, Dick Harpootlian, requested a change of venue and a delay in the trial. 
WATCH: ALEX MURDAUGH'S SURVIVING SON SPEAKS OUT IN FOX NATION EXCLUSIVE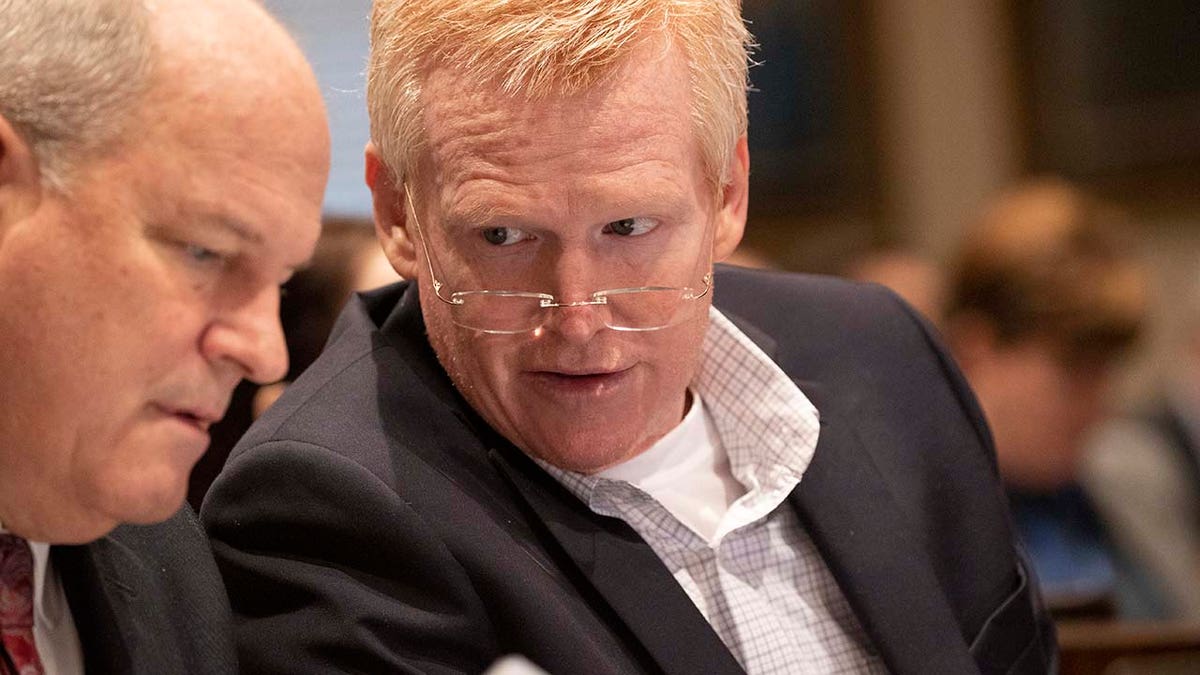 Satterfield died in 2018 from complications of a slip and fall after tumbling on the steps of the family's main residence at Moselle.
Murdaugh tried to skip the court appearance, but Judge Clifton Newman, who also presided over his murder trial, ordered him to show up.  
ALEX MURDAUGH SEEKS NEW TRIAL, ALLEGES JURY TAMPERING IN BOMBSHELL MOTION
Former Palmetto Bank CEO Russell Laffitte appeared in court before Murdaugh on charges he conspired with Murdaugh to rip off clients.
The convicted killer's former friend and co-conspirator Corey Fleming is also expected to appear for sentencing. 
He pleaded guilty to 23 charges for conspiring with Murdaugh to steal from former clients and friends. 
The appearance comes the day before the South Carolina Attorney General's Office is scheduled to respond to an explosive motion for a new trial filed by Murdaugh's attorneys last week accusing Colleton County Clerk Becky Hill of jury tampering in his double murder trial.
BUSTER MURDAUGH SAYS HIS FATHER ALEX HAS CHARACTERISTICS OF A PSYCHOPATH, BUT MAINTAINS HIS DAD IS INNOCENT
Newman sentenced Murdaugh in March to two life terms in prison for gunning down his 52-year-old wife, Maggie, and his son, Paul, 22, in June 2021. Hill read the jury's verdict. 
Murdaugh has maintained his innocence and is appealing.
FOX Nation aired the hit docuseries "The Fall of the House of Murdaugh" which featured an interview with Hill recounting her role in the blockbuster six-week trial. 
Murdaugh's only living son, Buster, also spoke exclusively with FOX Nation and said his father did not receive a fair trial. 
CLICK HERE TO GET THE FOX NEWS APP
"I think it was a tilted table from the beginning," he told Martha MacCallum. "And I think, unfortunately, a lot of the jurors felt that way prior to when they had to deliberate. It was predetermined in their minds, prior to when they ever heard any shred of evidence that was given in that room."