Local News

From Bruins players to local broadcasters, folks are raising their thumbs to support 3-year-old Declan Lyons as he battles brain cancer.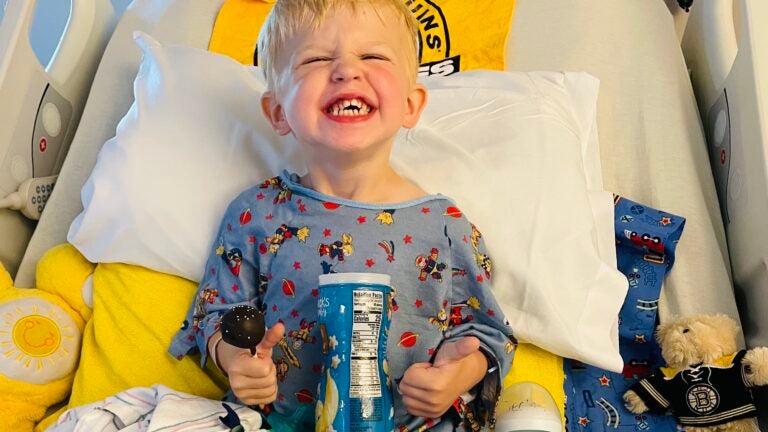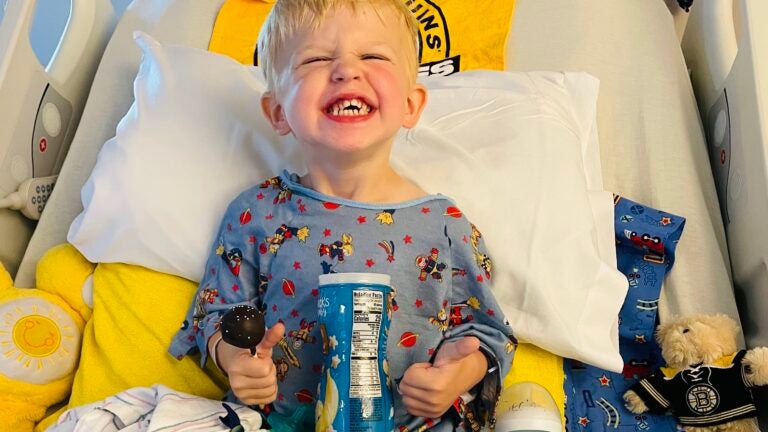 Local broadcasters, athletes, and community members in and around Greater Boston are raising their thumbs in a show of support for Declan Lyons, a 3-year-old boy fighting brain cancer. 
Declan, the son of WBZ meteorologist Sarah Wroblewski and Waltham High School Associate Principal Bobby Lyons, began battling severe headaches in August. An MRI eventually revealed a brain tumor the size of a golf ball, later identified as a medulloblastoma — the most common cancerous brain tumor in children, according to the Mayo Clinic.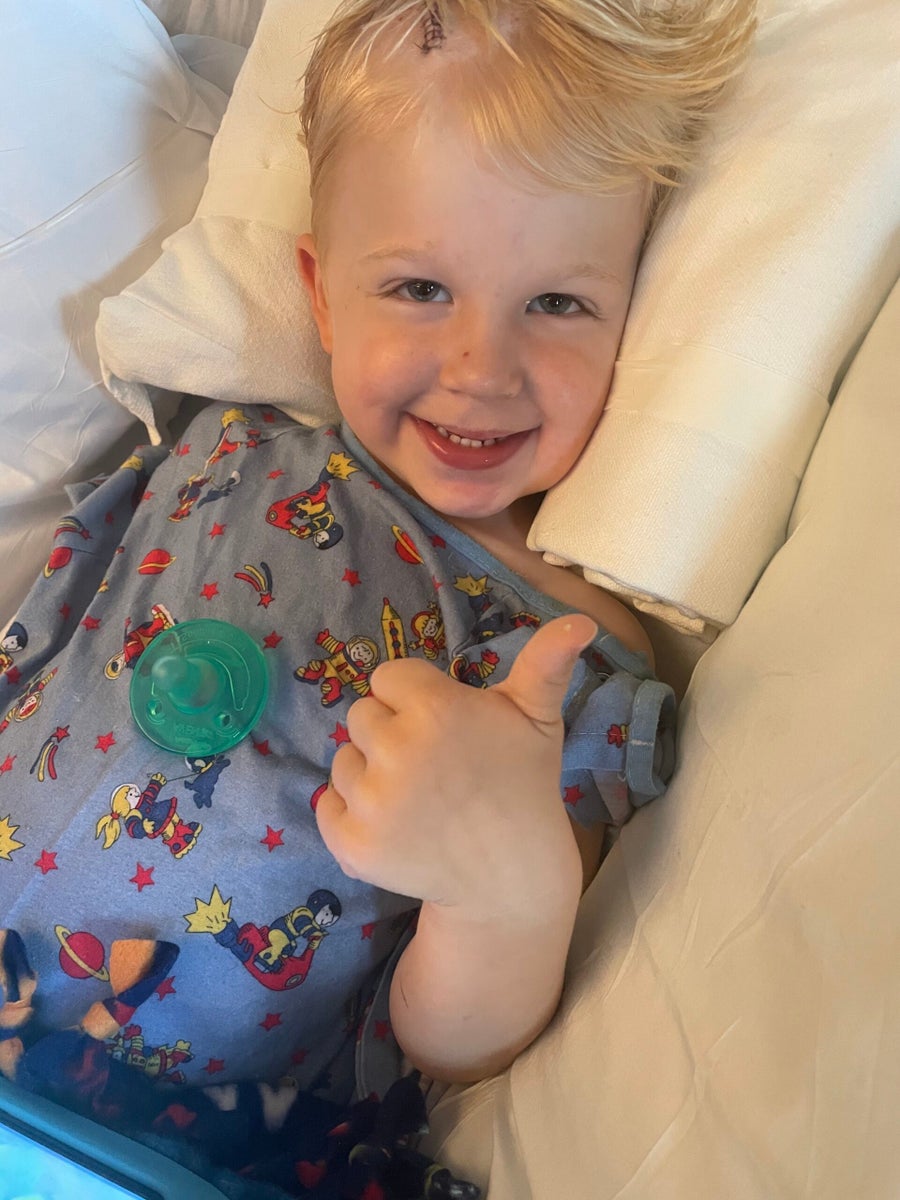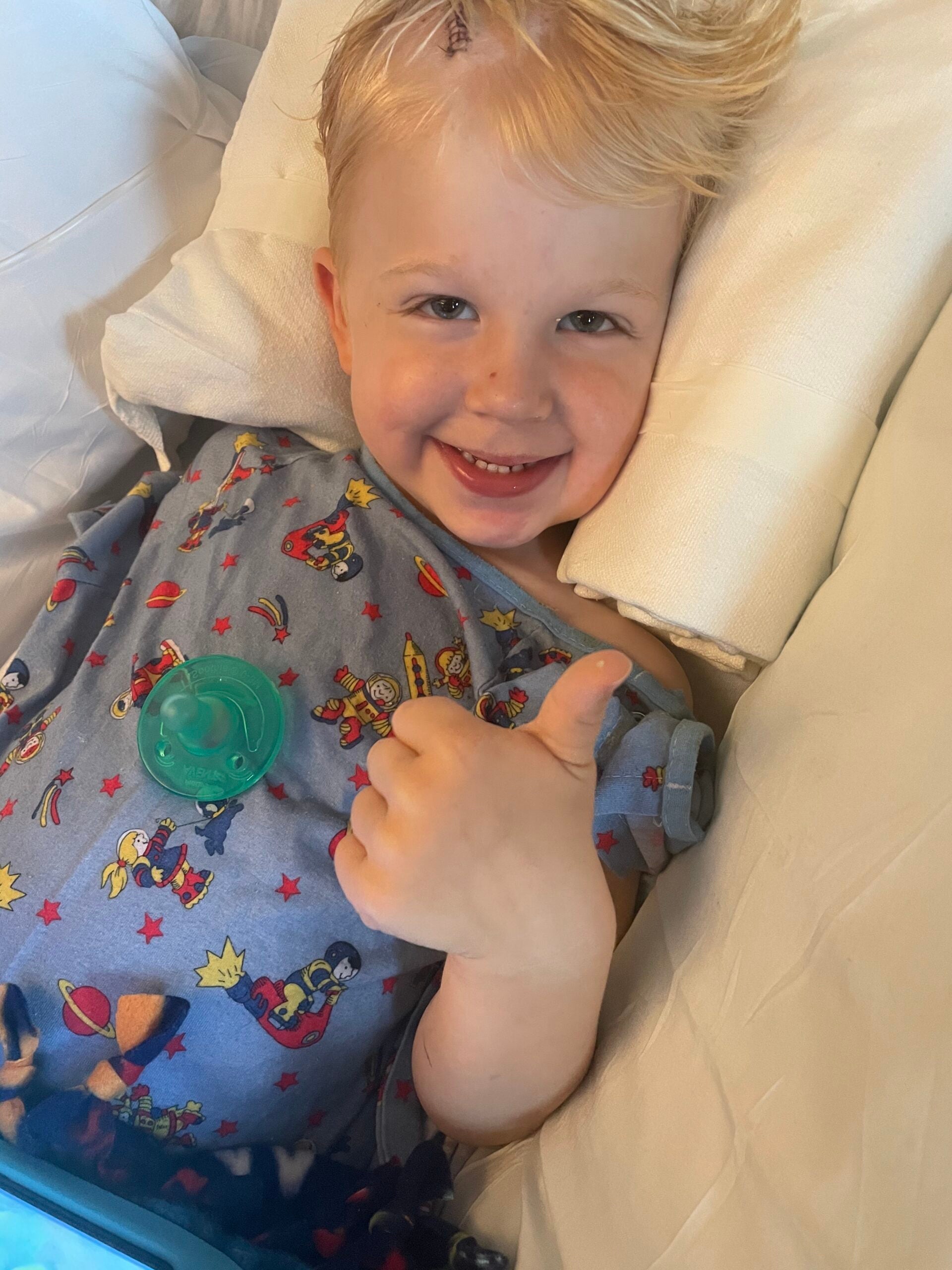 "To receive this diagnosis out of the blue was so emotionally overwhelming," Lyons told Boston.com in an email interview. "We had this active, vibrant 3 year old who in mid August just did not seem like himself. He became tired very easily, he had these painful, vomiting inducing headaches, which finally led to his first MRI on August 31st resulting in the need for surgery and a cancer diagnosis."
Declan underwent surgery to remove the tumor on Sept. 5, but he faces a long road of chemotherapy treatments and doctors appointments ahead. Recovering from the surgery has been a gradual process in and of itself, according to Lyons, but Declan has shown some promising signs.
"His overall morale has improved, as he is laughing and smiling more," Lyons said. "I can tell he is improving because he is asking for things that he really enjoyed prior to his surgery, like chips, Sour Patch Kids candy, and watching his favorite Disney movies. It is so encouraging to see him improve each and every day." 
Declan finally made it home on Sunday after a 17-day stay at Massachusetts General Hospital. 
Since Declan's diagnosis and throughout his time in the hospital, the family has seen an outpouring of support through a number of channels. 
On social media, the hashtags #thumbsupfordec and #declanstrong have gained traction among Wroblewski's colleagues and other Boston-area broadcasters, as well as students and educators in Waltham and beyond.
According to Lyons, the hashtags started as a way to spread the word about Declan's diagnosis.
"In looking back at pictures of Declan prior to surgery, whenever we took a picture he would offer a thumbs up," Lyons explained. "When we knew that Dec was going to be in for a long battle against this disease, my wife Sarah and I wanted to bring his story to the attention of others."
The hashtags have since spread far and wide, with photos trickling in from Bruins players, youth sports teams, and even a fire department in South Dakota.
"The simple gesture of just offering a thumbs up has brought so much happiness to our family," Lyons said, adding, "As parents, we received this devastating news and have felt so abundantly supported by so many, near and far."
At 3 years old, Declan may not fully understand what the hashtags represent. Still, Lyons said his son enjoys seeing the videos and pictures — and offering some smiles and thumbs up of his own.
"Declan is such a courageous kid and whether he is aware or not, his family is certainly aware and supportive of it," Lyons said. "He is a champ and we are so proud of him and his positive spirit in the wake of everything he has been through. He will need that same attitude moving forward when his chemo treatments begin."
A pop-up fundraiser through Tricon Sports in Waltham is raising money for the Lyons family through the sale of apparel emblazoned with the hashtags. Meanwhile, a GoFundMe page set up by Wroblewski's friends and former UMass Lowell soccer teammates had raised nearly $188,000 as of Monday afternoon.
The GoFundMe is aimed at easing the family's financial burden as they focus on Declan's care, according to the description. 
"Despite this formidable obstacle in their path, the Lyons family is determined to fight and navigate this brutal and unjust journey," the page reads. "They are not alone, as we stand beside them, ready to offer our unwavering support."
Lyons described that support as "amazing and uplifting," noting that it helped get him and Wroblewski through the past few weeks. 
"We plan to certainly pay it forward and make sure to support future families that will face this same battle of pediatric cancer," Lyons said. "In the meantime, I love seeing all the pictures of support for Declan. The simple act of offering a thumbs up has helped in motivating our family and Declan."
Newsletter Signup
Stay up to date on all the latest news from Boston.com