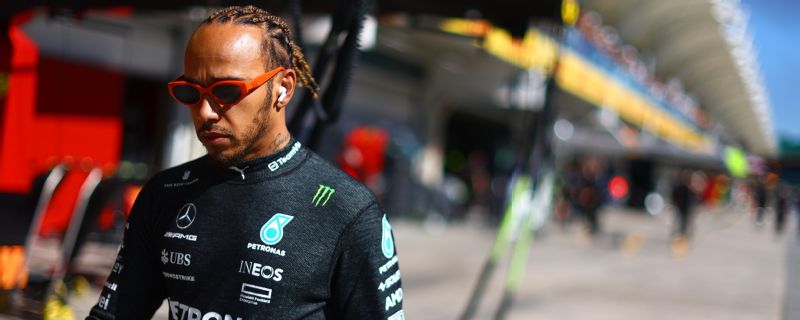 Seven-times Formula One world champion Lewis Hamilton suggested rivals Red Bull could be ahead of the rest of the field for years to come after his Mercedes team suffered their worst performance in more than a year on Sunday.
The Briton, who is an honorary Brazilian citizen, finished eighth in the Sao Paulo Grand Prix with team mate George Russell retiring.
Team principal Toto Wolff said Mercedes' worst showing since the 2022 Singapore Grand Prix, where Hamilton and Russell finished ninth and 14th respectively, was 'unacceptable'.
"We're losing so much time on the straights, there's nothing I can do about it, and then we're just sliding through the corners," Hamilton told reporters at Interlagos.
Mercedes won in Brazil with Russell last year, Hamilton finishing second, but nobody could beat Red Bull and Max Verstappen this year.
The Dutch driver has dominated the season, taking a record-extending 17th win on Sunday after securing his third world title last month in Qatar with six grands prix and two sprint races to spare.
"The Red Bull is so far away, I think they're probably going to be very clear for the next couple of years," said Hamilton, who indicated he was counting down the days to be free of this season's car.
Formula One's next major rule change is not until 2026.
Hamilton is fighting Red Bull's Sergio Perez for second place overall, but the Mexican outscored him in Sao Paulo and now leads by 32 points with two races remaining.
Wolff said the Brazil race showed Mercedes had to make fundamental changes for next year.
"Totally baffling," he said of Sunday' showing. "We are a proper structure, solid team, and that didn't look like a solid team."
Hamilton said that ultimately all he could do was try to remain optimistic, but his boss voiced a different stance.
"In 13 years I've never felt optimistic or confident, but it's maybe more my problem and my brain," said Wolff, whose team won eight consecutive constructors' championships between 2014 and 2021.
"What we know is that we're changing the car completely."
Red Bull boss Christian Horner suggested McLaren, who had Lando Norris finish second in Brazil and use Mercedes engines, could be contenders next season.
"It's been different people at different times during the year, so I think we just keep focusing on ourselves and whoever's behind us on the timesheet is almost irrelevant," he said.
"As long as we're at the top of it, that's what we're focused on."