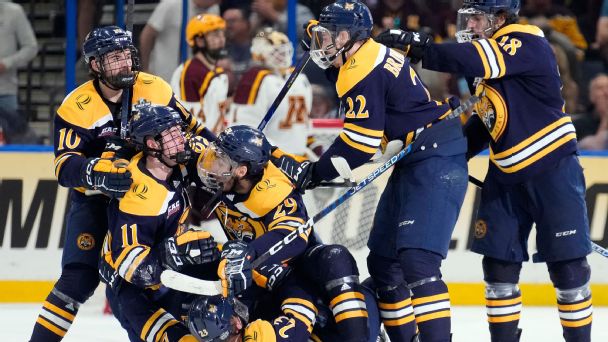 College hockey season is upon us and ESPN/ESPN+ is the place to see dozens of men's and women's games all the way through the Frozen Four and the national championship games.
On the men's side, ESPN+ will stream every game from Hockey East and the ECAC, plus a host of nonconference and independent games. Come tournament time, the ESPN networks will air the NCAA selection show and every game of the NCAA tournament, culminating with the Frozen Four in St. Paul, Minnesota, on April 11 and 13.
Women's hockey coverage includes Hockey East and ECAC games plus key interconference matchups and the women's Frozen Four in Durham, New Hampshire, on March 21 and 23.
All games that air on the ESPN networks will be simulcast on ESPN+.
Sign up for ESPN+
TEAMS TO WATCH
Qunnipiac looks to defend its men's national championship, while Wisconsin is the reigning women's champ.
Top contenders on the men's side include Boston University and Boston College of Hockey East; Minnesota, Michigan and Michigan State in the Big Ten, and Denver and North Dakota in the NCHC.
On the women's side, Ohio State, Colgate, Minnesota, Yale, Minnesota Duluth and Northeastern figure to challenge the Badgers.
NHL PROSPECTS
For those with an eye on NHL prospects, the projected No. 1 overall pick in the 2024 draft, center Macklin Celebrini, is at Boston University, as is first-round Vancouver Canucks draftee defenseman Tom Willander and defenseman Lane Hutson, a Montreal Canadiens pick.
Boston College also is loaded with first-rounders, including top-10 picks Cutter Gauthier (Flyers), Will Smith (Sharks) and Ryan Leonard (Capitals).
Michigan State has two of the country's top players on the back end in goalie Trey Augustine (Red Wings) and defenseman Artyom Levshunov (2024 draft eligible).
Others to watch include Michigan defenseman Seamus Casey (Devils), Minnesota wing Jimmy Snuggerud (Blues), UConn wing Matthew Wood (Predators) and Wisconsin center Charlie Stramel (Wild).
KEY GAMES
All times Eastern
On ESPNU
Nov. 28 — Women: Providence at Northeastern, 5 p.m.
Dec. 31 — Men: Harvard at UConn, 3 p.m.
Jan. 30 — Men: Boston University at Northeastern, 6:30 p.m.
Nonconference men's games on ESPN+
Oct. 13, 14 — Michigan at UMass, 7 p.m.
Oct. 14 — AIC at Quinnipiac, 7 p.m.
Oct. 20 — Denver at Providence, 7 p.m.
Oct. 21 — Denver at Boston College, 7 p.m.
Oct. 26, 27 — Michigan State at Boston College, 7 p.m.
Oct. 27 — Michigan Tech at St. Lawrence, 7 p.m.
Oct. 28 — Michigan Tech at Clarkson, 7:30 p.m.
Nov. 3, 4 — North Dakota at Boston University, 7 p.m.