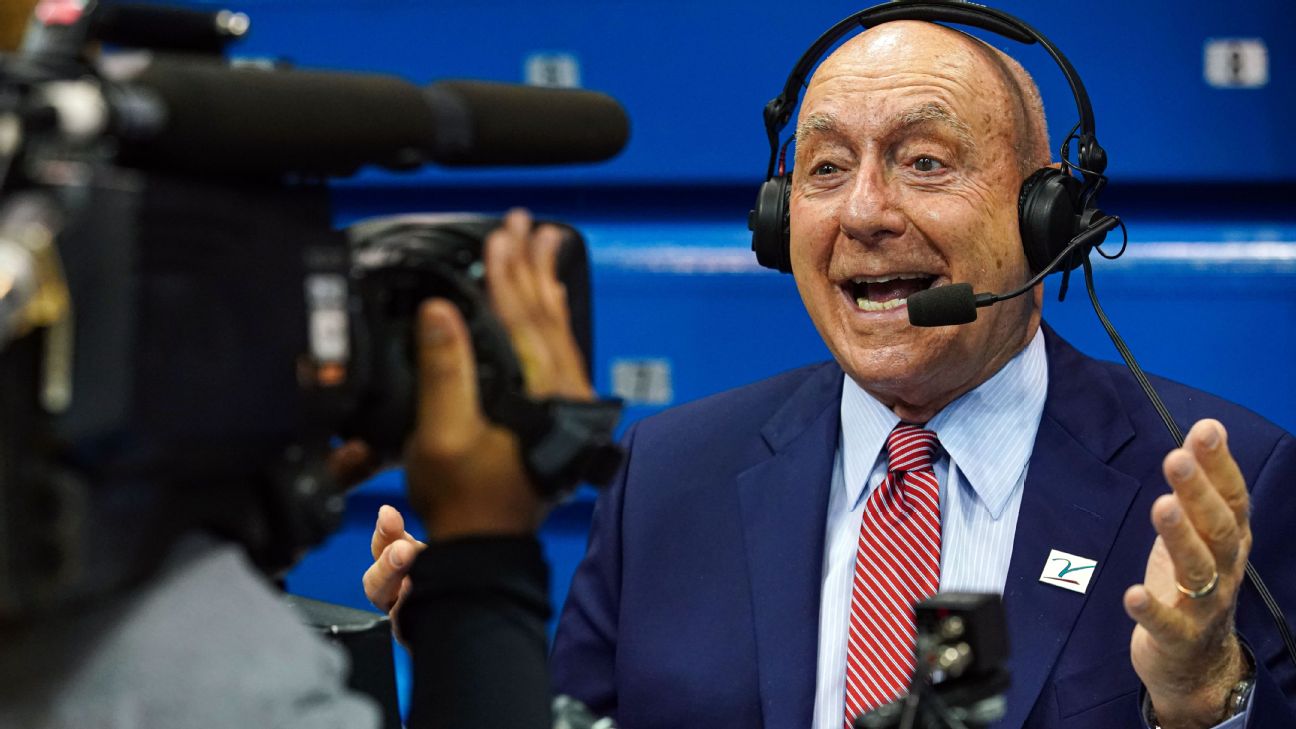 Hall of Famer Dick Vitale said his vocal cord cancer "is gone" but he needs more time for voice healing and is not yet ready to return to his longtime position as an ESPN college basketball analyst, it was announced Monday.
"While I'm disappointed with the latest developments, I remain hopeful," Vitale, 84, said in a statement. "The cancer is gone, which is amazing news, yet the impact of the treatments has taken its toll on my voice and requires more healing."
Vitale, who was diagnosed with cancer in July and underwent radiation treatments, was ordered to rest his voice for months and had hoped to return at the end of November. However, Dr. Steven Zeitels, director of the MGH Center for Laryngeal Surgery and Voice Rehabilitation Center, recommended that Vitale rest his vocal cords further.
No specific date for his return has been set.
"With the season started, I am jumping out of my shoes to be back in the college basketball arenas, calling the game I love and being around so many great colleagues and fans," Vitale said. "I have to listen to the medical experts, who have been so good to me, and with some more rest, I know I will be back for my 45th season. I've been so touched by the amazing response I've received."
Vitale has been with ESPN since 1979, the year the network launched. He called ESPN's first college basketball broadcast.
In 2021, Vitale was diagnosed with lymphoma, months after he had multiple surgeries to remove melanoma. He chronicled his treatments and recovery on social media, posting photos of doctor visits and hospital stays while issuing motivational tips recorded before he was put on voice rest. Last year, he announced that he was cancer-free.
"Dick has the full support of his entire ESPN family, and, while we look forward to a return to his rightful courtside perch, he needs to focus on fully mending his vocal cords," ESPN chairman Jimmy Pitaro said in a statement. "Sports fans everywhere will anxiously await his comeback whenever he is ready."