Business

The Swiss sneakers with the distinctive toothy outsoles are reaching a 2010s-Allbirds level of ubiquity — for better or for worse.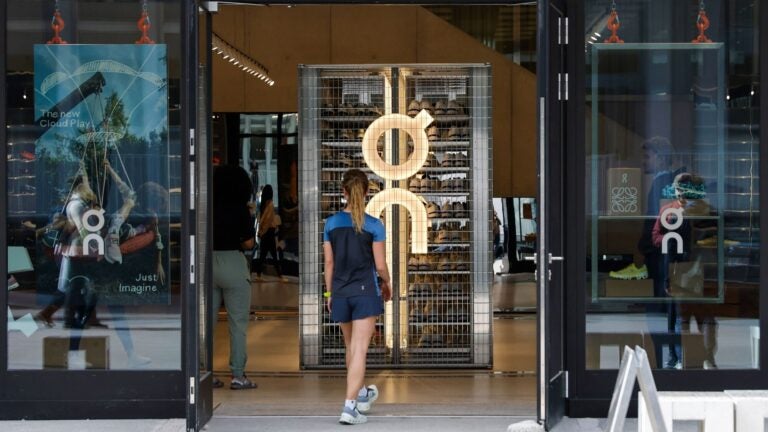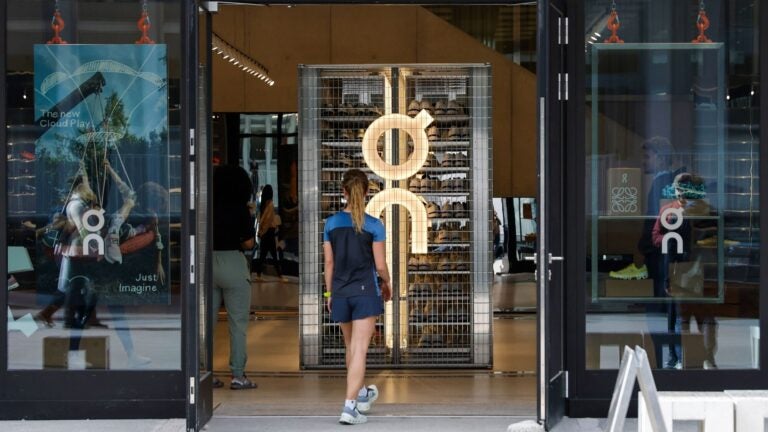 When Chris Eaton bought his On Cloud X cross-trainers to wear out running in 2021, he'd hardly seen the shoes on anyone's feet before. "They just looked really cool," the 37-year-old IT consultant, runner and cyclist remembers.
They were not, it turned out, the right shoes for Eaton's jogging pursuits around his suburban hometown of Sykesville, Md. But they went directly into his comfortable-walking-shoe rotation, where a second pair of Ons joined them soon afterward.
Eaton would never have guessed, of course, that in 2023, he'd fly from Baltimore to San Jose – a workweek trip he makes frequently – and step onto an airport shuttle full of other tech guys wearing Ons. "I just looked around and went, 'Oh my gosh.' I took a picture," he says with amusement. Now, the sneakers are inescapable. In his extensive travels for work as well as in his office in Maryland, Eaton says, "I see a whole lot of non-runners walking around in $170 running shoes."
You could be forgiven for thinking of Ons as just those trendy bubble-sole shoes you've started to see on commuters and shoppers and parents out with strollers around your neighborhood; and you could be forgiven for thinking their somewhat cryptic, strangely serif'd logo perhaps read "QC" or even "QA." But On, the shoe brand co-founded in 2010 by Swiss Ironman champion Olivier Bernhard, has enjoyed a meteoric rise in the last few years. It got a boost in profile in 2019 when Swiss tennis great Roger Federer became a shareholder (and a namesake for a flat-bottomed white tennis-esque street shoe, followed later by an actual tennis shoe), and this past August the company announced it earned $490 million in net sales in the second quarter of 2023, its sixth consecutive best-ever quarter.
Thanks to its gentle color palette and innovative-yet-unobtrusive cirrocumulus silhouette, the On has effectively displaced the last lifestyle sneaker to become so ubiquitous it felt like the default: the eco-friendly New Zealand brand Allbirds' Wool Runner.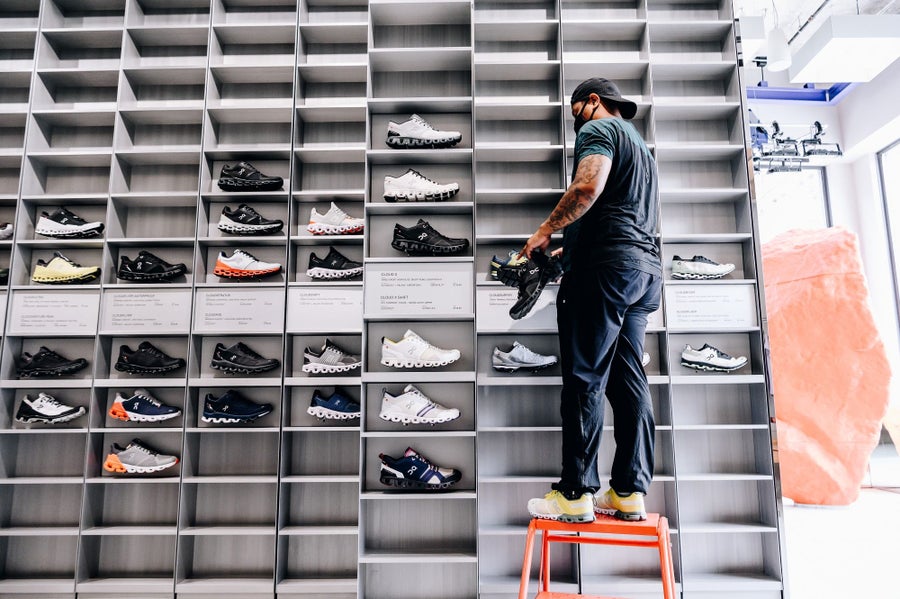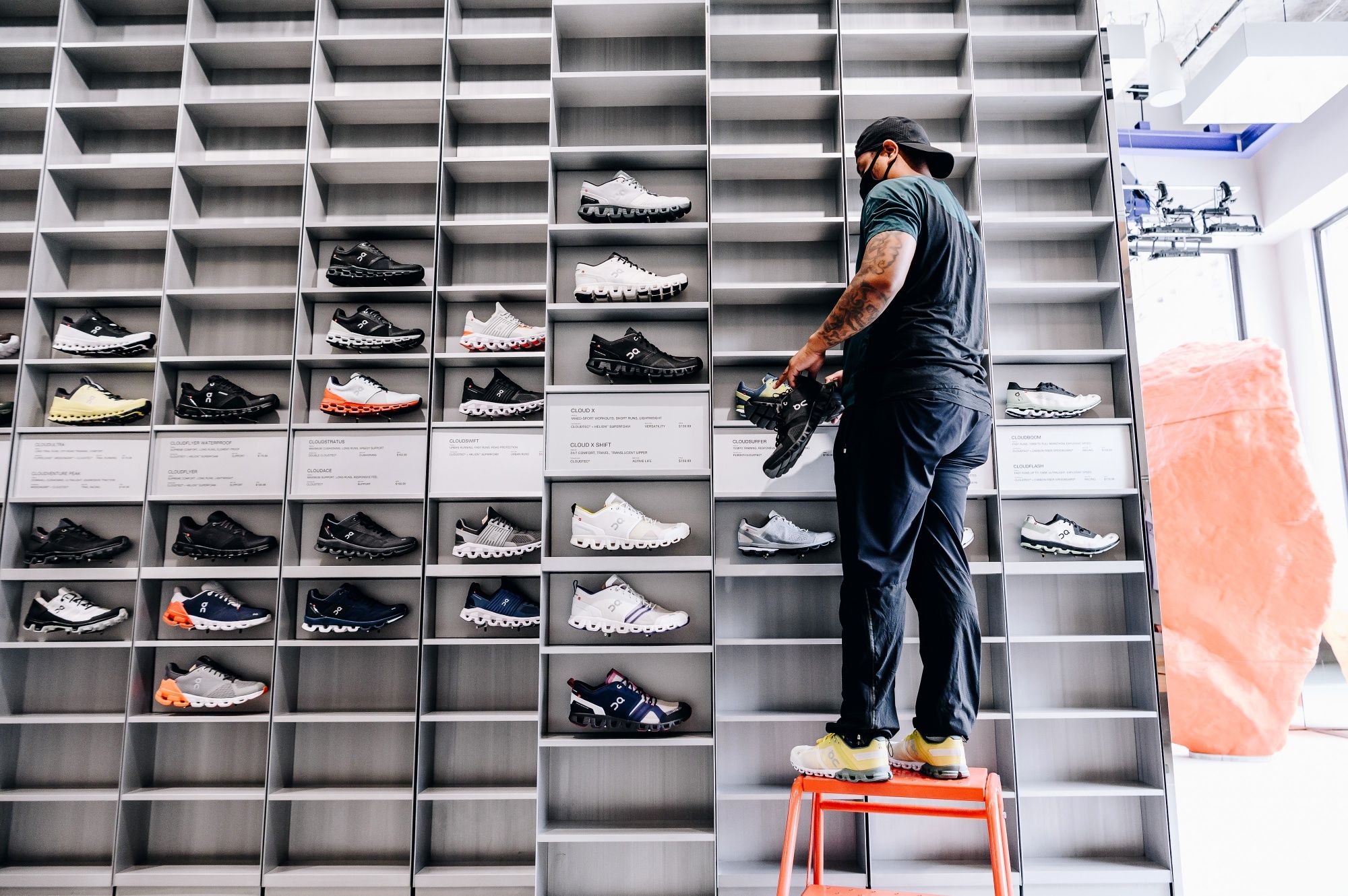 Writer Rachel Syme captured the sudden pervasiveness of Allbirds' anodyne, cartoonishly simple distilled-essence-of-a-sneaker in the New Yorker in 2018 – arguably the heyday of Allbirds, when New Zealand's then-prime minister Jacinda Ardern went so far as to make diplomatic gifts of them. "In their initial wave of popularity, Allbirds became an essential part of the daily uniform of Bay Area tech entrepreneurs," Syme wrote. "But in the past year Allbirds have travelled outside the clean hallways of Silicon Valley headquarters and tipped into the mainstream. Mila Kunis wears Allbirds. So does Jennifer Garner. So do Park Slope dads and modern dancers and trendy teen-agers and kooky aunts and registered nurses and bartenders and pretty much every overworked, weary thirtysomething you see on the New York subway."
In late 2021, almost immediately after the company became publicly traded, Allbirds' stock prices began to drop precipitously. By December 2022, the "tech bros" had "moved on" from the minimalist sneakers, the Wall Street Journal observed, and this past March, Allbirds reported $101 million in annual losses for 2022.
(A representative for Allbirds told The Washington Post in a statement that 2023 "has been a year of improving our inventory position, significantly reduced operating cash use, recalibrating our product assortment, and more." The statement also quoted CEO Joey Zwillinger: "There's plenty of room for different offerings in the footwear industry – it's a $75 billion market in the U.S.")
Like Allbirds, On emphasizes sustainability, and like Allbirds, its products have found an audience in both the tech world – where a wear-with-everything comfortable shoe's appeal to optimization-minded workers is unsurprising – and beyond. Boomer dads, for instance, have taken a shine to On, Pierce Brosnan included. And one person who spoke to The Washington Post on the condition of anonymity to protect his job in the running-gear industry has been surprised to see a shoe originally intended for athletic pursuits instead pop up on so many moms at Starbucks in their running-errands clothes. "I guess you could call it the athleisure crowd. The Lululemon type of clientele," he says.
Indeed, parents have immediately clocked the practical aspects of Ons. Parents magazine writer Kristy Alpert named them among the essentials for adults looking to travel with kids. The style blog the Mom Edit extolled Ons' ability to pair just as easily with casual wear as athleisure, and Travel & Leisure noted their popularity among moms shepherding their kids around Disney World.
In other words: Sit outside on 16th Street on Manhattan's far West Side – where five Google office buildings abut a Google store, and tourists of all ages mill around in the Chelsea Market food hall near the man-made Little Island and one end of the High Line – and you'll witness a sidewalk-level parade of white, black and cotton candy-colored On sneakers, their gum-toothed outsoles traversing the same ground an army of Allbirds once did.
On does, of course, enjoy a different degree of athletic credibility than its predecessor. "The only message Allbirds really send is like, 'I want something comfortable, and I want something that's better for the environment than most sneakers,'" says Russ Bengtson, author of the new book "A History of Basketball in Fifteen Sneakers." To behold someone wearing Ons, meanwhile, "is like: 'This is a guy in tech management who maybe runs a marathon occasionally,'" Bengtson says. "It's like athletic virtue-signaling."
Bengtson wonders if the coronavirus pandemic may have contributed to the popularity of On. "I think a lot of people got stuck at home and had to figure out, like, 'How am I going to fill this time? What can I do?'" he says. "You're not going to the gym, and I think more people ran."
This is, in fact, precisely what happened to Eaton – and a quick browse of Reddit's many running forums reveals that his subsequent discovery, that he didn't actually like running in Ons but loved walking in them, may have been a common one. One user posted a meme in 2022 asking, "Are On Clouds shoes for accountants?" and got the prompt response, "Well they aren't for running."
As the running-industry employee explains, despite its many models with names like Cloud X and Cloud 5 and their patented CloudTec soles, On's shoes have historically been relatively firm – and American runners tend to favor softer shoes than their European counterparts. He points out that new models like the Cloudmonster and new partnerships with athletes like Kristian Blummenfelt, the Norwegian 2020 Olympic gold medalist in the triathlon, point to the brand doubling down on being an athletic shoe; indeed, as a representative for On points out, the brand also recently announced a long-term commitment to producing shoes and apparel for tennis.
As Bengtson notes, at a certain point a popular shoe's inescapability becomes its defining quality. Like Keds in the '80s, Uggs in the 2000s and the classic green-and-white Stan Smith sneaker in the mid-2010s, they enjoy a breakout moment of widespread exposure – think Baby wearing Keds in "Dirty Dancing" or Oprah putting Uggs on her annual Favorite Things list in 2003 – followed by a period of cutting-edge appeal, then ubiquity and eventually fatigue. It happened to Allbirds, and now it's happening to On: Choosing to wear it suddenly means choosing to blend in.
"A lot of those shoes that have become, you know, 'regular shoes,'" he says, "in terms of every shoe sending a message, maybe you're sending a message you don't necessarily want to send. Like, I'm going to wear sneakers, but I don't want them to say anything about me.
"Which, of course," Bengtson adds, "says something about you."