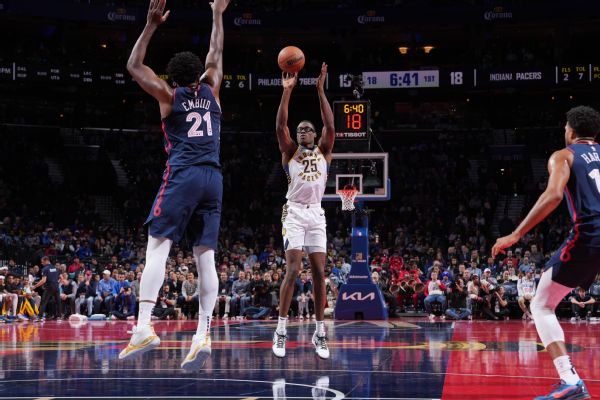 PHILADELPHIA — Indiana Pacers forward Jalen Smith left Tuesday night's NBA In-Season Tournament game against the Philadelphia 76ers with a head injury, and the team said he was transported to a hospital for evaluation and additional testing.
Neither Indiana head coach Rick Carlisle nor the team's public relations staff had an update on Smith's condition after the Pacers' 132-126 win over the Sixers. The Pacers were scheduled to fly out of Philadelphia on Tuesday night. They will next play on Sunday afternoon at home against Orlando.
Smith was knocked down in a collision at the defensive end of the floor midway through the second quarter as Sixers forward Paul Reed went up for a dunk.
Smith immediately left the floor with Indiana's trainers. He was declared out for the rest of the game at halftime after scoring five points in 2:33 of action. The team said on X, formerly known as Twitter, that Smith was being taken to the hospital "out of an abundance of caution."
The 23-year-old Smith has averaged 11.8 points and 6.8 rebounds in eight games for Indiana.