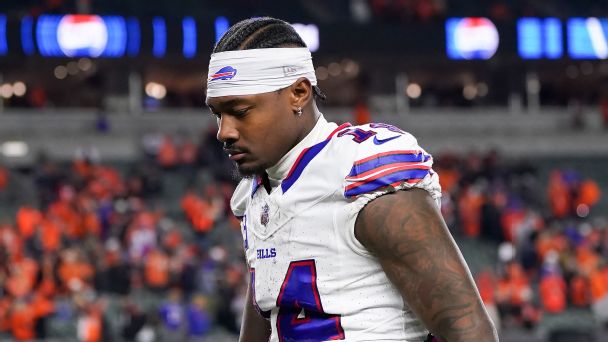 The Buffalo Bills' 24-22 loss to the Denver Broncos on Monday frustrated Bills receiver Stefon Diggs' brother.
While the game was in progress, Dallas Cowboys cornerback Trevon Diggs took his opinions to X, formerly Twitter.
Trevon Diggs tweeted this about his brother Stefon after the Bills' loss. pic.twitter.com/qu6jBuup8g

— SportsCenter (@SportsCenter) November 14, 2023
After his older brother snagged only three receptions through four quarters of action, Diggs posted: "Man 14 gotta get up outta there."
Diggs' frustration went a step further as the cornerback seemingly called out Bills quarterback Josh Allen.
Let's not forget, he didn't start going off till bro got there.

— SEVEN (@TrevonDiggs) November 14, 2023
Allen was 15-for-26 for 177 yards and two interceptions against the Broncos. Allen now leads the NFL in interceptions with 11, and the Bills have lost three of their past four contests.
Before Diggs was traded to the Bills, Allen had a 56.3 completion percentage in two seasons. Since Diggs was traded in 2020, Allen has completed 66% of his passes.
For Diggs, the 2015 draftee tallied 4,623 receiving yards during his five seasons with the Vikings. With the Bills, he has 5,057 receiving yards while catching passes from Allen.
Miami Dolphins wide receiver Tyreek Hill was entertained by every second of Diggs' pettiness.
Diggs standing on bidness today I see and I love it 🥹

— Ty Hill (@cheetah) November 14, 2023