Justin Fields led a game-winning drive where Cairo Santos knocked through his fourth field goal of the game to beat the Minnesota Vikings, 12-10, on Monday night. 
A game riddled with turnovers and inefficient offense is never what NFL fans want to watch. However, it was one that remained tight in the fourth quarter, making every possession a big one. 
Josh Dobbs had his worst game in a Vikings uniform this season, but after Minnesota's defense forced a fumble on Fields – his first turnover of the night – the "Passtronaut" had the opportunity to finally turn the tides down 9-3 at home. 
CLICK HERE FOR MORE SPORTS COVERAGE ON FOXNEWS.COM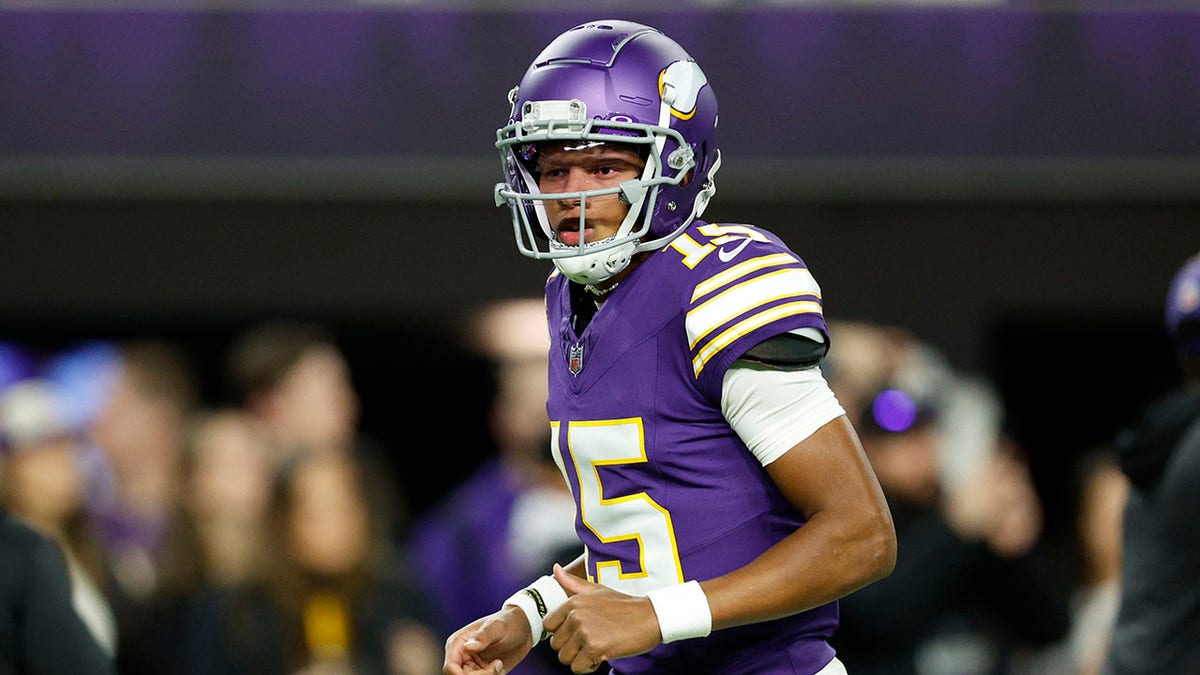 He did just that, leading the way on a 77-yard drive that was capped by T.J. Hockenson's 17-yard touchdown to take a 10-9 lead. 
But given how this game was going, Fields and the Bears still had a chance to get within field goal range to retake the lead. However, his first attempt at doing so ended in a fumble again, as Josh Metellus came flying in with a tackle that popped the ball out and the Vikings recovered. 
The Bears' defense, a unit that was solid all game long, came in clutch once again on the ensuing possession. They forced a three-and-out on the Vikings, giving Fields another chance with just over two minutes to play in the game. 
FROM OUTKICK: PANTHERS FIRE FRANK REICH, A MOVE THAT IMMEDIATELY GOES DOWN IN NFL HISTORY
It looked bleak when the Bears got to midfield and Fields couldn't find anyone to throw the ball to on first and second downs. But, on third-and-10, Fields fired a bullet to D.J. Moore, who secured the catch for 36 yards. All Fields had to do was kneel it out and hope Cairo Santos hit the game-winner. 
Santos hit three field goals earlier in the game, but he did miss one on the team's opening drive from 48 yards out, which ultimately forced Fields to lead a game-winning drive. But this field goal was right down the middle from 30 yards out, giving the Bears a much-needed victory. 
Fields, helping the Bears move to 4-8 on the year, was 27-of-37 on the night for 217 yards, while rushing for 59 yards on 12 carries to lead Chicago as well. His favorite target was Moore, who had 114 yards on 11 catches (13 targets).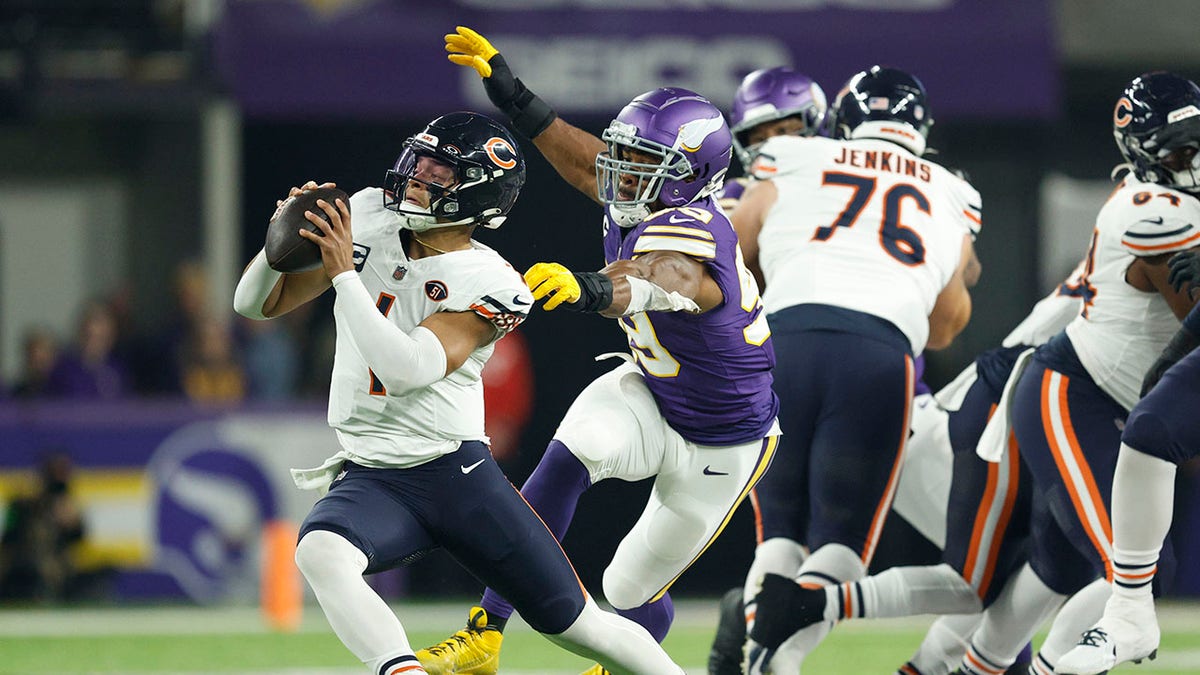 As mentioned, it was a rough night for Dobbs, who has been electric for the Vikings since he was traded from the Arizona Cardinals. He came into this game with four passing touchdowns and three rushing scores, one in each game he's played, to lead Minnesota to two wins. 
But the Bears were all over him on Monday night, as he threw four interceptions, which began with Jaylon Johnson dropping back into coverage and picking him off early in the second quarter. 
On the Vikings' next drive, Dobbs didn't get help from rookie wideout Jordan Addison, who couldn't corral a fastball from his quarterback. It hit him in the hands and Jaquan Brisker won the tip drill for his first interception of the season. 
CHIEFS' TRAVIS KELCE MAKES FRANCHISE HISTORY IN WIN OVER RAIDERS
Then, in the second half, Dobbs threw back-to-back interceptions again. It came after the Vikings had a turnover on downs, as a pass intended for K.J. Osborn once again bounced in the air and T.J. Edwards was ready to make the grab. Kyler Gordon, then, read a short pass intended for C.J. Ham and pounced on it for the fourth pick of the night. 
Dobbs was 22-of-32 for 185 yards with one touchdown, with Hockenson leading the Vikings with 50 yards on five catches. Alexander Mattison also had 52 rushing yards on 10 carries. 
The Vikings, now 6-6, will hit their bye week disappointed they couldn't win the low-scoring bout at home. However, they are expected to get their All-Pro receiver Justin Jefferson back in Week 14 when they take on the Las Vegas Raiders on Dec. 10.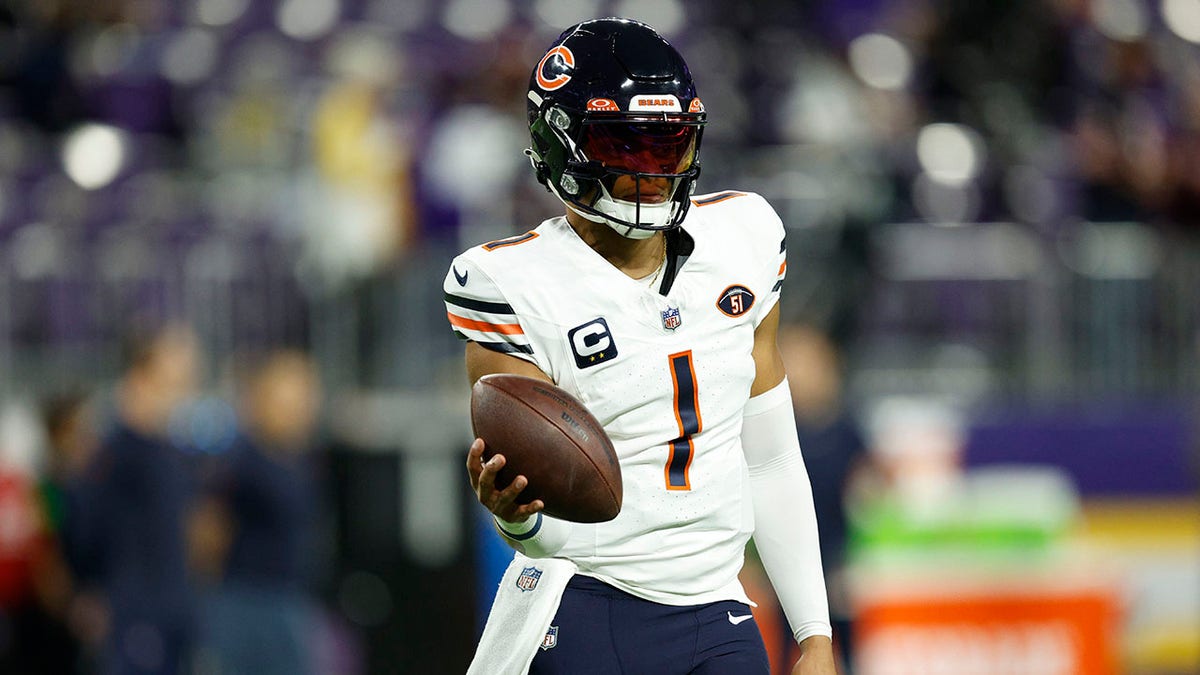 CLICK HERE TO GET THE FOX NEWS APP
Meanwhile, the Bears are not out of the playoff hunt at 4-8, and Fields will be looking for revenge against the Detroit Lions after their bye week coming up.