In an absolute shootout on Thursday night, the Dallas Cowboys took down the Seattle Seahawks, 41-35, to improve to 9-3 on the year. 
The Seahawks fell to 6-6. 
There were no punts in this game, but there were a few turnovers. Dak Prescott and the Cowboys found themselves down in the fourth quarter because of it, but that didn't stop them from fight back. 
CLICK HERE FOR MORE SPORTS COVERAGE ON FOXNEWS.COM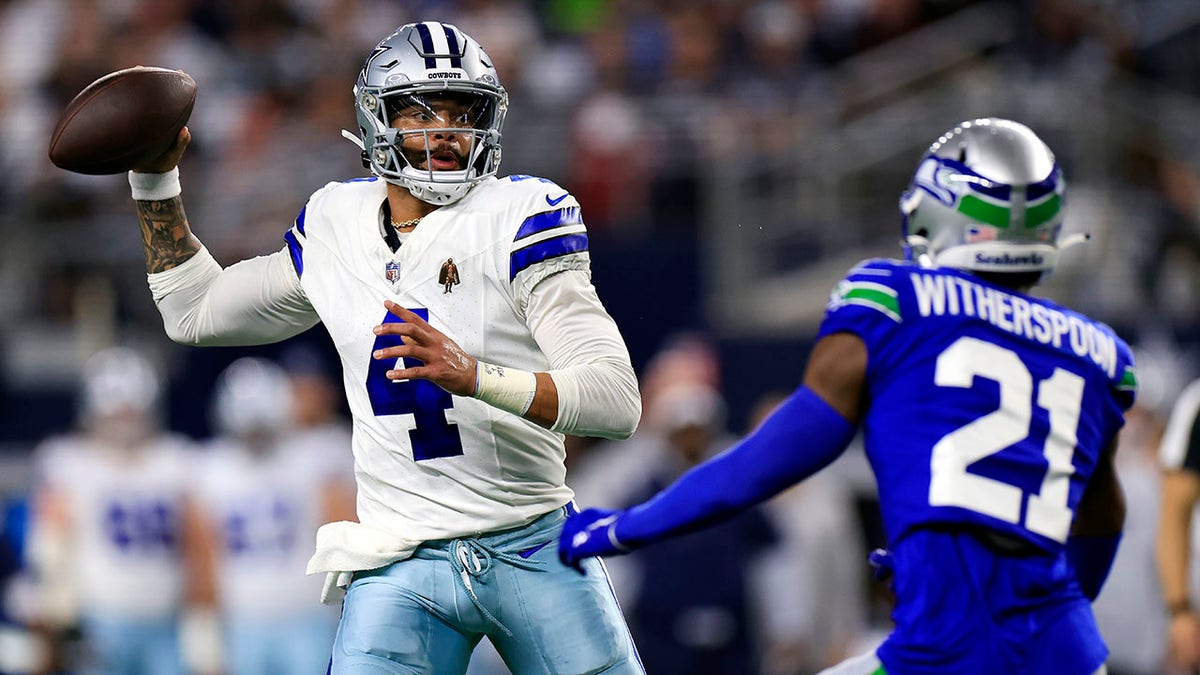 After kicking a field goal to make it 35-30, the Cowboys' defense, which struggled against Geno Smith and the offense all night, got a huge stop on fourth-and-1 from their own 46 yard-line. 
That ultimately led to a seven-play, 54-yard drive that was capped by tight end Jake Ferguson snagging a pass over Seattle safety Jamal Adams to get Dallas their lead back. Prescott would find Brandin Cooks, who scored a touchdown in the first half, for a two-point conversion to make it a three-point game, 38-35. 
On the ensuing drive, the Seahawks tried to respond like they have all night long. But once again, the Cowboys' defense got the stop they needed. Seattle turned it over on downs at midfield, and the Cowboys would turn that into another field goal to make it 41-35. 
Smith had a chance, though, with less than two minutes to play to win the game. A touchdown drive was needed, but a third straight turnover on downs came after Micah Parsons got pressure on Smith on fourth-and-2 to ice the victory. 
FROM OUTKICK: PRO FOOTBALL HALL OF FAME SEMIFINALISTS INCLUDES TWO FIRST-BALLOT POSSIBILITIES
The touchdown party in this one kicked off in grand fashion, though. After Dallas couldn't find the end zone and settled for three points on its first drive of the night, Smith and the Seahawks wasted no time getting seven points of their own. 
On the third play from scrimmage for Seattle, Smith threw a perfect ball to D.K. Metcalf with DaRon Bland in tight coverage on his star receiver. But after Metcalf made the tough catch over Bland, there was no help behind him to make a tackle.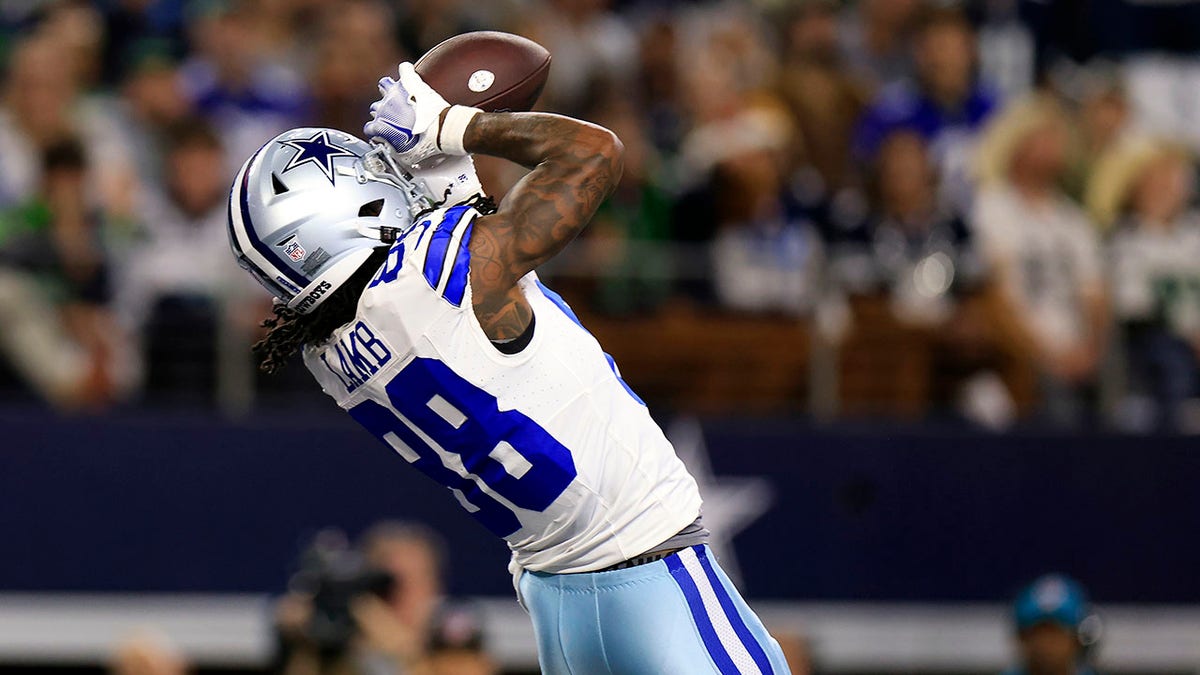 Metcalf was off to the races, sprinting all 73 yards to find the end zone for his first touchdown of three on the night. Yes, three. 
Metcalf was there for Smith on two other occasions, both of which didn't require him to hit Mach 10 down the field. His second was a one-yard pass where Smith hit him right in the chest to give the Seahawks a 21-20 lead after the extra point was made. 
Then, just as the fourth quarter began, Metcalf was wide open on a play-action pass for a three-yard score. He gave the ball to a Seahawks fan he saw in the stands before celebrating with teammates after giving them a 35-27 lead. 
Metcalf finished with 134 yards on six catches on the night. 
But Prescott and the Cowboys continued to respond, and the veteran signal caller showcased an MVP level of play he has been consistently put on the field for weeks now. 
DOLLY PARTON'S HALFTIME PERFORMANCE PART OF HISTORIC VIEWERSHIP IN COWBOYS-COMMANDERS GAME
CeeDee Lamb was his favorite target, as he had one of Prescott's three touchdown passes. He finished with 12 catches for 116 yards to lead the way for Dallas. Fellow receiver Brandin Cooks also had a touchdown catch, while Tony Pollard ran one in on a night where he had 61 yards on 18 carries. 
Kicker Brandon Aubrey also accounted for 12 points on four made field goals to aid in the victory. 
As for the Seahawks, Smith went 23-of-41 for 334 yards with three touchdown passes and one interception. He also rushed in a touchdown, while Zach Charbonnet led the way on the ground for the Seahawks with 60 yards on 19 carries and a score.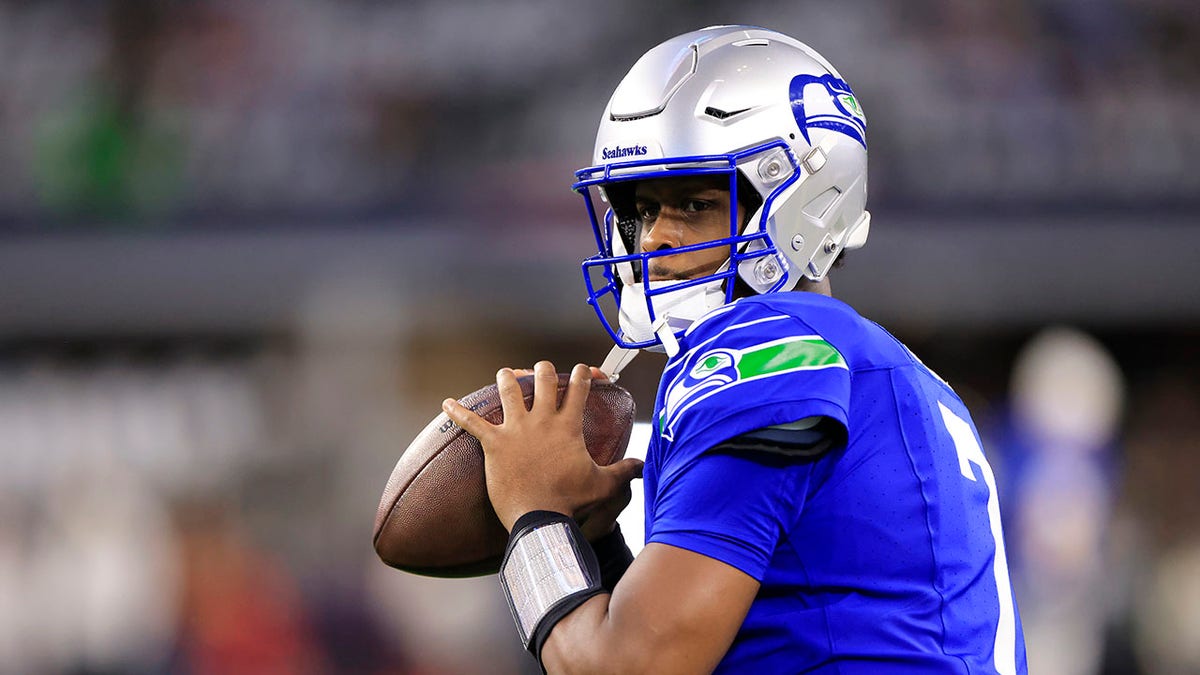 CLICK HERE TO GET THE FOX NEWS APP
The Seahawks will have a crucial NFC West matchup with the San Francisco 49ers, where they're looking for revenge after getting blown out on Thanksgiving night. 
Meanwhile, the Cowboys will look to do the same against the Philadelphia Eagles next Sunday after losing to their NFC East rival a couple weeks ago.