Local News

The shrimping business was based mostly in Maine and produced small, pink shrimp that were a winter delicacy in New England and across the country.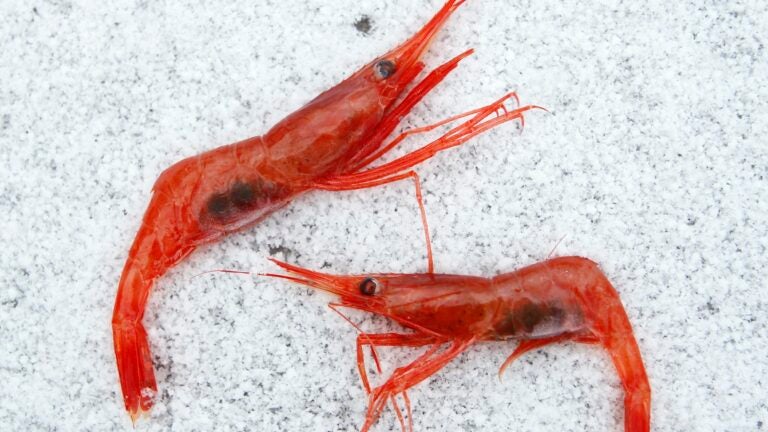 PORTLAND, Maine (AP) — New England's long-shuttered shrimp business, which fell victim to warming waters, will remain in a fishing moratorium indefinitely, fishery regulators ruled on Friday.
The shrimping business was based mostly in Maine and produced small, pink shrimp that were a winter delicacy in New England and across the country. The industry has been in a moratorium since 2013 in large part because environmental conditions off New England are unfavorable for the cold water-loving shrimp.
That moratorium will remain in effect with no firm end date, a board of the regulatory Atlantic States Marine Fisheries Commission voted Friday. The board stopped short of calling the move a permanent moratorium because it included a provision to continue monitoring the shrimp population and consider reopening the fishery if the crustaceans approach a healthy level.
But it was clear board members saw little chance of a future for a fishery that once provided a beloved seafood item that appeared on restaurant menus and in seafood markets every year around Christmas.
"I think we're all done here with this stock. I see the water temperatures. I don't think we're coming back," said Mike Armstrong, an environmental analyst and member of the panel.
The warming of the Gulf of Maine, a body of water where the shrimp live that is critical to U.S. commercial fishing for species such as scallops and lobsters, is an ongoing subject of scientific study. In addition to the shrimp, other New England species, such as Atlantic cod, have also declined in the face of warming waters and overfishing.
Previous extensions of the shrimp fishing moratorium have been for one year or three years at a time. However, the shrimp stock isn't showing signs of improvement, said Chelsea Tuohy, a fishery management plan coordinator for the commission.
"Recently, under no fishing mortality, the population continues to decline," Tuohy said. "The Gulf of Maine is warming quicker than other areas of the ocean, and the shrimp tend not to do well in warming waters."
The commercial fishery for the New England shrimp, which are also called Maine shrimp or pink shrimp, was established in the 1950s and peaked at nearly 30 million pounds (13.6 million kilograms) per year in the late 1960s, Atlantic States commission documents state. Maine fishermen caught more than 10 million pounds of the shrimp per year as recently as 2011. Fishermen in Massachusetts and New Hampshire also once sought them.
Shrimp are among the most popular seafood items in the world, and New England shrimp were once a small part of the worldwide shrimp industry, which includes wild-caught and farmed shrimp species from many parts of the globe. Canadian fishermen have long harvested the same species of shrimp as New England fishermen, and their exports of the shrimp are still sometimes found in U.S. seafood markets.
Some U.S. fishermen have advocated trying to save New England's shrimp fishery with new management approaches. Glen Libby, a former shrimp trawler, said regulators need to gather more data before taking drastic measures to close a historic fishery.
The shrimp panel also voted to investigate the possibility of an industry-based research program about the fishery.
"A lot of people, mostly in the industry, don't think that we have a complete picture of what's going on," Libby said. "Let's not open it up, let's just have a limited season. There's a hunger for more data, that's for sure."