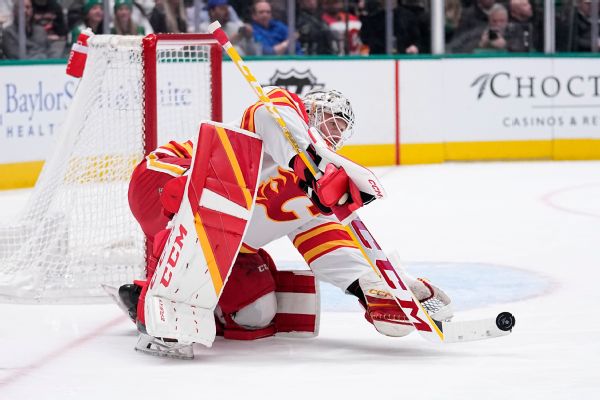 Calgary Flames goaltender Jacob Markstrom is week-to-week with a fractured finger.
He sustained the injury during practice on Monday, prompting the team to recall Dustin Wolf from the AHL.
Markstrom, 33, is 6-8-2 with a 2.94 goals-against average and an .896 save percentage this season.
The Flames continue their six-game homestand Tuesday with Dan Vladar in goal against the Minnesota Wild.
"It's always tough when guys get injured," captain Mikael Backlund said after Tuesday's morning skate. "(Marky's) disappointed, but Vladdy and Wolfie (are) going to have to rally now and play really good and step up.
"They've both played really well when they've had the chances here, but we're definitely going to miss Marky, he's a big leader in this room."
Markstrom is 198-181-57 with 18 shutouts, a 2.73 GAA and a .909 save percentage in 14 seasons with the Florida Panthers, Vancouver Canucks and Flames.